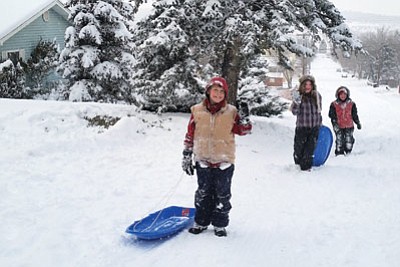 Originally Published: January 6, 2015 10:31 a.m.
WILLIAMS, Ariz. - What started out as a dry winter got almost back on track last week with a major storm that brought 14 inches of snow to Williams.
A mass of cold air from Canada brought the storm through California and Arizona, dropping snow in some unlikely places from Las Vegas to Lake Havasu City to Tucson.
The New Year's Eve snowstorm forced the Arizona Department of Transportation to close almost 90 miles of Interstate 40 in both directions because of numerous vehicle slide-offs and crashes. The closure was in effect from 15 miles east of Kingman at U.S. 93 to Williams (mileposts 72-161). Traffic was affected in the Williams area from 6:20 p.m. on Dec. 31 until 2:45 p.m. on Jan. 1 when disabled vehicles were removed from the highway and plow operators had cleared the road of snow and ice.
Up until the Dec. 31 storm, Williams had only received 0.5 inches of snow this winter, which came on Dec. 25. No snow fell in Williams during October and November, according to David Vonderheide, a meteorologist with the National Weather Service in Bellemont.
"It's not unusual to have a stretch of dry or wet that might last for several months but then in the middle of that it can go the other way," he said. "I think in this area, this part of the Colorado Plateau, this seems to be typical that you get these big events that are spaced weeks or even months apart."
Normal snowfall amounts for Williams are 0.5 inches in October, 5 inches in November and 12.1 inches in December.
That means Williams has received 14.5 inches of snow to date, about 3 inches shy of the amount the city normally sees through the end of December, which is 17.6 inches.
"Obviously from year to year it varies a lot," Vonderheide said. "It seems like no two winters are the same."
Despite the lack of snow, November and December did see some precipitation in the form of rain. However, with high temperatures in the 40s and 50s, it wasn't cold enough for snow. In November, 0.21 inches of rain fell in Williams. A storm on Dec. 3 and 4 dropped 1.48 inches of rain in the city.
"The storms were warm and they brought a lot of rain," Vonderheide said. "They had that subtropical air that was being brought up. The storm centers were coming up out of the southwest instead of out of the northwest or north. They didn't have any cold air."
Looking ahead to 2015, the normal snowfall amounts are 18.8 inches for January, 15.5 inches for February, 14.2 inches for March, 5.5 inches for April and 0.1 inches for May. That equates to a seasonal average of 71.7 inches of snowfall in Williams throughout the entire winter.
"Once you get through late December and then go on into January, February, March the amounts are a lot higher," Vonderheide said. "Those are the usual snowy months."
Vonderheide attributed last year's dry winter to a high-pressure system that prevented storms from moving into the area.
"I think we're going back into the dry pattern," he said. "This ride of high pressure, I'm calling it the ridge of steel, it keeps bouncing back. Every time we get a storm it reforms."
As for this week, the National Weather Service is predicting high temperatures to be in the 50s, which means a lot of the snowfall will melt. No snow is currently in the forecast, but Vonderheide said trying to predict the weather in this area is challenging.
"There's a lot of terrain effects," he said. "It's not just a matter of like in the midwest and the east where you can just move weather systems along and you've got warm air and cold air and fronts and all this. But here you have to take into account the Mogollon Rim and all these high elevations of the mountains."
The latest forecast information is available at www.wrh.noaa.gov/fgz.