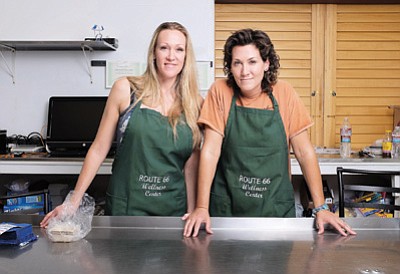 Originally Published: July 1, 2014 11:37 a.m.
WILLIAMS, Ariz. - For years, sisters Kristine Wilder, an herbalist, and Gerry Greiner, a biochemist, worked in the pharmaceutical industry.
But things changed when doctors diagnosed their mother with stage four cancer. Some of the medications their mother was taking were not helping and were also causing negative side effects.
So the sisters decided to try another option. They switched gears and became caregivers so they could legally administer medical marijuana. Through trial and error, they used their education and experience to make marijuana infused products that would help alleviate some of their mother's negative side effects.
"We started formulating when the (medical marijuana) program went legal three years ago and we were pretty much plumb out of conventional options," Wilder said. "Because she doesn't drink, she doesn't smoke, she doesn't do any of these things, so we needed to find a way to get this in her."
After successfully developing products that helped their mother, the sisters started sharing them with other patients. The sisters are now the formulators for the marijuana dispensary in Williams, Route 66 Wellness Center.
"The evolution is just amazing to go from trying to formulate something to help our mom to now making products available throughout the state to patients just like her," Wilder said.
The dispensary opened for business on Jan. 21, 2013 at 341 E. Route 66. About three months ago, the dispensary moved to the old Hop Sings building at 324 E. Railroad Ave. The new location provides a kitchen to make infusion foods, is handicap accessible and provides more privacy for patients.
On May 28, the business started selling marijuana infused products such as tinctures, capsules, topical foams, brownies and cobblers. Besides Route 66 Wellness Center, 10 other medical marijuana dispensaries carry the products Wilder and Greiner make.
Tim Moore of Cannabis Research Group, the company that owns Route 66 Wellness Center, said the dispensary patients have had a positive response to the new infused offerings.
"Our biggest product that seems to be helping the most are gel caps for patients who are unable to smoke and they're really good for pain relief," he said. "It didn't surprise us at all because we have a whole different twist on this whole business. We're medically-based."
Moore added that the infused products seem to be growing in popularity, especially in dispensaries in Phoenix and Tucson that carry Route 66 Wellness Center's products.
"We believe it's the thing of the future, especially on the medical side," he said. "We may expand and if some (products) don't seem to be doing so well for patients we can remove some as well. We're all about patient help and patient education."
Wilder and Greiner emphasized that unlike other dispensaries that sell marijuana infused candies and other sweets, Route 66 Wellness Center focuses on medicinal products.
"The reason why we even still do brownies and things like that is there's a lot of patients on chemotherapy and they need appetite stimulation and they need the calories," Greiner said. "So they can nibble on something like an edible or a cobbler all day long, and it wards off the nausea and it manages their pain and anxiety and it's giving them calories."
Greiner said she and her sister make a good team as the formulators because of their different backgrounds.
"Between the two of us, we come up with different delivery systems," she said. "So we create edibles that are not all the same, so how people's physiology and whatever their conditions are assimilate edibles differently. We focus on fast absorption versus slow absorption. A lot of medical, scientific insights go behind the formulas."
Wilder added that their methods of formulating the products emphasize the positive compounds within the marijuana.
"It's all been processed and extracted in such a way that there's no head high," Wilder said. "It's pain relief, it's relaxation, it's anti-inflammatory."
The sisters also use other herbs to complement the compounds in the marijuana, such as turmeric, which works as an anti inflammatory, and lavender, which promotes relaxation.
"Because at the end of the day cannabis is not the end all be all. It's just one thing that should be incorporated into many things," Wilder said. "That's what we're doing here. There's no other kitchen in the state that's incorporating these other homeopathic herbs with cannabis and creating basically a super medicinal. We're really serious about what we do."
More like this story