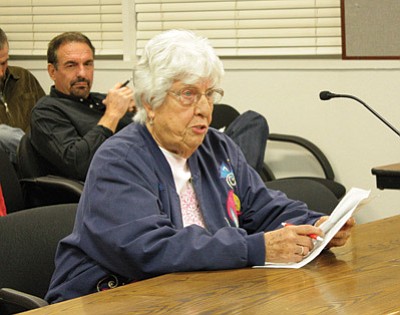 Originally Published: January 28, 2014 10:37 a.m.
Williams' medical marijuana dispensary is packing up shop on Route 66 and moving to Railroad Avenue.
Route 66 Wellness Center, which has been open for a year at 341 E. Route 66, will soon move to a building behind its existing location, to 324 E. Railroad Ave. The building was once Hop Sings Chinese restaurant.
Tim Moore of Cannabis Research Group (CRG), the company that runs the dispensary, wanted to relocate because the new building has a kitchen for making marijuana infused foods, is handicap accessible and would give patients more privacy.
The Williams Planning and Zoning Commission put on a public hearing Jan. 16 and approved the dispensary's request for a conditional use permit by a 4-3 vote.
After a second public hearing on Jan. 23, the Williams City Council approved the conditional use permit as well by a 5-0 vote. Councilmen Craig Fritsinger and Jim Wurgler were absent.
Prior to the public hearing, Mayor John Moore reminded the audience that the only issue up for discussion was the conditional use permit and possible relocation of the dispensary.
"This is a hearing not to discuss or talk about what we personally feel about marijuana and the use of it," John Moore said.
Ruth Sanzari was the first to speak, saying an important issue like relocating the dispensary should appear on a ballot or a survey to determine the opinions of the residents.
She added that handicap accessibility could be added to the dispensary's existing location, and that the use of the kitchen in the Hop Sings building would result in more crime.
"Can you imagine the increase in robberies and break-ins for the homes and businesses caused by this so the kids can get money to buy the marijuana or have somebody else buy it for them?" she asked.
Sanzari reminded the council that three members of the Planning and Zoning Commission voted against awarding the conditional use permit.
"Each of the council members has a conscience that will haunt you when your loved ones-your sons, your daughters, or maybe even your wife-will become addicted," she said. "My suggestion is have a clear conscience and deny this move."
Judy Givens addressed the council next, saying she worried about future growth for the dispensary.
"They've gotten along in this building for a year and now they want this larger building that they say they will not expand," she said. "Is there anything to guarantee us that they will not expand any further, or are we just going to come together again and go through this all over again? I understand there's people that need what they're using but how far do we go?"
Ryan Schmitz also spoke, telling the council that when the dispensary first came to town, several people signed a petition against it.
"We were informed that we needed to (allow the dispensary) because the state said we had to. But we don't have to do this," Schmitz said about allowing the move. "What it comes down to is expansion-it's an upgrade. We weren't for its inception and we're certainly not for its expansion."
Williams High School student Story Schmitz spoke next, saying he was not against medical marijuana. However, he claimed the marijuana from the dispensary is making its way to local youth and negatively affecting them.
"What we really need is a miracle, what we certainly do not need is an expansion of medicinal marijuana in this town," Schmitz said. "So I would ask you to make the right decision and not do anything that is going to be in any small way increasing the number of lives that are destroyed before they even begin over this drug."
The last person to speak during the public hearing was Tim Moore, who stated the move was not about expanding.
"We're not looking to attract more patients, we're looking to help the patients that we have right now and service them better," he said.
Moore described to the council and audience what would happen if Williams did not have a dispensary. Under state law, cardholders can only grow their own medical marijuana if they live more than 25 miles away from a dispensary. Moore said according to the Department of Health Services, 96.2 percent of state cardholders live close enough to a dispensary to prohibit them from growing. Without the dispensary in Williams, local cardholders would be able to cultivate their own medical marijuana.
"Now a good grower can grow anywhere from a half a pound to three pounds per plant," Moore said. "They can grow 12 plants each. They can take those and churn those about every 90 days. So you're talking about 12 pounds on the small side per patient every 90 days legally within the town of Williams."
Moore added that without the dispensary, the ability to grow medical marijuana would attract other cardholders to Williams and some of the marijuana would end up on the black market.
"So we are actually a benefit to this town, although most people can't see it," he said. "Under that scenario I would just like everyone to kind of think about that maybe when they drive by...the thought might be, there's a place that's actually deterring people from growing in this town."
When the regular council meeting reconvened, Councilman Frank McNelly asked Williams Police Chief Herman Nixon if he had any concerns about the dispensary moving.
Nixon said the police department has not had any problems with the dispensary.
"Look, marijuana is going to be in the city whether we like it or not," Nixon said. "And one thing I can agree with (Tim Moore) on is, the one thing that scared me more than anything was allowing people to grow it in our community. That would be a nightmare for this police department."
Nixon added that he did not have any information about medical marijuana cardholders selling the drug on the black market.
"But I can tell you that the cost of (the dispensary's) marijuana far exceeds the cost of what you can buy on the street," he said. "So for an individual to go in and pay what they pay in there to go sell it on the street, they're losing some money on that and a good businessperson is not going to lose money."
Before the vote, council members commented that the dispensary was right for the community to prevent individual marijuana growing, the new location would be off of Route 66, the new location was still ideal for police patrols, and the new location would have the same security and surveillance as the existing location.
After the meeting, Tim Moore said he hoped the dispensary would be ready to move by mid February, although the timeline was not definitive. The Coconino County Health Department has already done a pre-inspection on the new site, and now the dispensary must complete some work to comply with the remaining state and county requirements for the kitchen.
Moore added that before moving its inventory, Route 66 Wellness Center would put on a grand opening for the general public to see the new location.
"We're just trying to be good neighbors and moving forward up there," he said.
More like this story