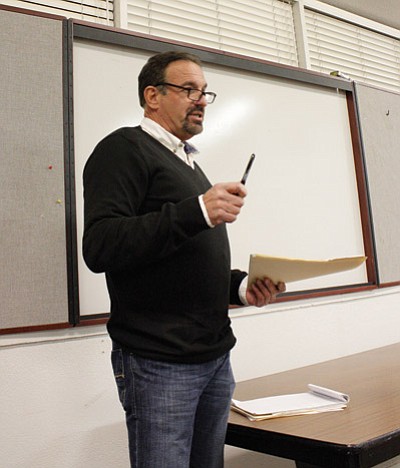 Originally Published: January 21, 2014 10:35 a.m.
Williams' medical marijuana dispensary is one step closer to relocating after the Williams Planning and Zoning (P&Z) Commission approved the dispensary's permit request at its Jan. 16 meeting.
After hearing from several concerned citizens as part of a public hearing, the P&Z voted 4-3 to approve Route 66 Wellness Center's request for a conditional use permit.
The issue will now go before the Williams City Council for a second public hearing and a vote on Jan. 23 at 7 p.m. at 113 S. First St.
Route 66 Wellness Center has been open for a year at 341 E. Route 66. The dispensary's owners are asking for a permit to move to a building behind its existing location, to 324 E. Railroad Ave. The building was once Hop Sings Chinese restaurant.
Tim Moore of Cannabis Research Group (CRG), the company that runs the dispensary, told the commission he hopes to move the dispensary for three reasons.
The first reason is the potential new building has a kitchen, which would allow CRG to make marijuana-infused foods and products such as brownies, cookies, salves and lip balms.
"Some people just don't like to smoke," Moore said. "And there's some patients that just aren't able to, cancer patients and whatnot, that topicals and those type of things work better for them."
Currently CRG staff buys infusion products from other dispensaries, but Moore said making their own would allow them to offer higher quality and lower priced items.
The second reason for the potential move is Hop Sings is handicap accessible, and the dispensary's current location is not.
"There's three steps that they have to go up, which makes it very difficult for them," Moore said, estimating that about 70-80 percent of his clients are handicapped in some way.
Finally the new location would give patients more privacy, since Moore plans to separate the dispensary portion from where other patients may be waiting.
"It's just like when you go to Walgreens - they ask you to step back a little bit behind so that people who are standing up there getting their prescription can have a little privacy," he said.
The dispensary serves between three and 10 patients per day. Since CRG would only use the downstairs portion of the Hop Sings building, Moore said the space would only be about 100 square feet larger than the current location, which is about 800 square feet.
If the city grants CRG the permit, the company would lease Hop Sings for two years. The potential new location would have the same safety and signage requirements as the existing location.
During the public hearing, one woman said she was concerned after hearing about a child in Colorado eating her parents' marijuana infused cookies.
"That's a valid point," Moore said. "But it's no more valid than a kid getting into a narcotic cabinet that a parent leaves out and only that would be fatal."
Another audience member said Williams already has a drug problem, and kids getting a hold of the infusion foods could be the start of a drug habit.
Moore replied by citing a study that showed that young people are using less marijuana since the drug became legal in Colorado and the black market is tapering off.
Williams High School student Story Schmitz said the opposite is true since many of his classmates use marijuana.
"It's really sad because cannabis and marijuana is actively destroying lives," he said. "I'm just kind of interested in maybe not expanding the flow of marijuana into the youth of this town. I know that it's already there and it's killing us as is. God, don't let it kill us any faster."
Chairman Buck Williams said the youth's usage was another issue.
"If his product is showing up at school, that's the same as the kid standing outside the Circle K and saying, 'Hey mister, buy me a six-pack,'" Williams said. "There's nothing you can do about that until the police take notice of it."
Resident Ryan Schmitz said many people in town oppose the dispensary in general.
"I feel that Hop Sings is one of the coolest new buildings in town in an extremely prominent location," Schmitz said. "It's a more prominent location, it beckons more public acceptance, which has a desensitizing effect on our youth."
Williams responded by saying, "The problem is that the state has mandated that we will have a marijuana facility in the city of Williams."
One man worried that if state marijuana laws changed in the future, the larger building would be ideal for a marijuana cafe.
Midway through the public comments, Commissioner Greg Brooks became upset and said the meeting was about the conditional use permit only.
"It has nothing to do with whether or not marijuana is legal, it has nothing to do with whether or not (Moore's) allowed to be here," Brooks said. "Everybody wants to talk about getting rid of the marijuana and I'm sorry, that's a done deal. That horse has left the barn."
During Brooks' remarks, two people walked out of the meeting and Commissioner Josh Smiley asked him to lower his voice.
Two audience members made positive comments about the dispensary's potential move.
Resident Patty Williams stated that relocating would be an improvement.
"He is now wanting to move to the back of that property so he'd be on Railroad where there's hardly anybody over there," she said. "So he would not be on Route 66 and the tourists wouldn't see his sign."
Another woman called it commendable that the handicapped access at the potential new location would eliminate the pain customers have when navigating the steps at the existing location.
Toward the end of the public hearing portion of the meeting, Moore reiterated that the move was to improve access to the dispensary and provide medical marijuana products at a lower price.
"We're going to be here whether we're in that building or in the building that we're in now," he said. "Nothing is going to change, there's not going to be more patients, there's not going to be less patients, there's not going to be more marijuana sold, there's not going to be less marijuana sold."
When the regular meeting reconvened, Smiley proposed discussing the potential new location in terms of the city's long-term goals.
"One of the things that we did not feel was in the best interest of the city was having a medical entity within the business district," he said. "We'd want (Hop Sings) to attract attention because we are looking for Railroad to represent the culture of the city of Williams and Route 66."
Vice Chairman John Holst said without a Main Street ordinance in place, the issue was outside of the commission's purview.
Commissioner Harry Schmitz said he voted against granting the original permit to the dispensary because in his opinion it was not proper for the downtown area.
"We've fulfilled our mandated obligation to approve a facility," Schmitz said. "We're under no obligation now though to let them enhance it, legally."
At this point the commission voted. Williams, Holst, Brooks and Commissioner Brad Massey voted in favor of granting the permit. Commissioners Gabe Ayala, Smiley and Schmitz voted against granting the permit.
Following the vote, Williams announced that Holst and Brooks had submitted letters of resignation from the commission, effective Jan. 17.
After the meeting, Holst said while serving on the commission was interesting, he hoped to become more involved in other activities.
"I think I'm more satisfied and perhaps more successful with projects anymore rather than with procedural kinds of positions," he said.
Brooks is stepping down to move to South Carolina, where his wife is getting treatment for breast cancer.
"I appreciated my time on the P&Z," he said. "I'd like to think that I made a difference. I'd like to see Williams prosper."
The commission is now seeking two people to fill those vacancies. Applicants must be 18 years or older, live within the city limits and be U.S. citizens.
More like this story