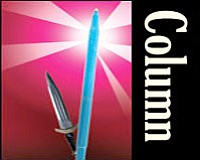 Originally Published: April 15, 2014 9:42 a.m.
This week is Holy Week, which begins on Palm Sunday of the Passion of the Lord, this year celebrating on April 13.
Holy Week, the final and the most special week of Lent, when Christians celebrate the mystery of Salvation through Christ's triumphal entry into Jerusalem, His Passion, Death and Resurrection on Easter Sunday.
These Forty Days of Lent were a time of preparation for these great Three Days, The Sacred Triduum, (which is what Truduum means). These three days lead believers to an empty tomb on Easter Sunday and eight days of celebrating the Resurrection. They also introduce an entire liturgical season, the Easter Season, which lasts for Fifty days untold the Pentecost.
This last part of Holy Week is annually commemorated based on an ancient calendar, which is based on the movement of the sun and the moon. In simple terms, the Jewish Feast of the Passover and Easter are celebrated on the first Sunday following the first full moon that occurs on or after the day of the vernal equinox (the first day of spring). This Passover commemorates the "night of nights" when the angel of death passed over the Israelites' houses and struck down the first born of the Egyptians.
It was during the Passover celebration in Jerusalem that Jesus Christ had his farewell dinner of bread and lamb, placing himself as the Paschal Sacrifice.
Christians see Jesus as the new Passover: through his death and resurrection we are finally liberated from all bondage, including sin and death.
The Sacred Easter Triduum begins with the Vigil of Holy Thursday. It makes the end of the forty days of Lent and the beginning of the three day celebration of the death and resurrection of Jesus Christa.
Holy Thursday is the Mass of the Lord's Supper, which will be celebrated at St. Joseph the Worker Catholic Church in Williams at 7:30 p.m. tomorrow.
On Good Friday, April 18, the Williams churches are invited to St. Joseph's to pray to the Stations of the Cross at noon. On Friday evening there is the Good Friday liturgy, which includes the Reading of the Passion of the Lord, the Veneration of the Holy Cross and Holy Communion.
Finally there is the bilingual Solemn Easter Vigil on Saturday night at 8 p.m. an April 19 and Easter Sunday Mass at 8 a.m. on April 20.
The economy of salvation is at work within the framework of time, but since its fulfillment on the Passover of Jesus and the outpouring of the Holy Spirit, the culmination of History is anticipated "as a foretaste," and the kingdom of God enters into our time.
"Therefore Easter is not amply one feast among others, but the "Feast of feasts," the "Solemnity of solemnities," just as the Eucharist is the "Sacrament of sacraments" (The Great Sacrament).
More like this story