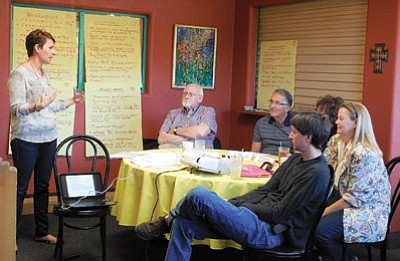 Originally Published: October 22, 2013 10:28 a.m.
Board of Directors members and staff of the Williams-Grand Canyon Chamber of Commerce held their annual board retreat and planning session in Cottonwood recently. Mary Chiconie, a professional strategic planner, facilitated the all-day session. She led the group in defining what has worked and what needs improvement on by the organization. She also encouraged those present to be focused and passionate on what they want the organization to accomplish.
Casey Rooney, president/CEO of the Cottonwood Development Council, and Heather Hermen of Front Burner Media also gave presentations. Rooney discussed the ongoing efforts to revitalize Old Town Cottonwood and the importance of wineries to attract people to the Verde Valley. He congratulated the Williams Chamber on Williams' Historic Downtown revitalization, the successes of the Grand Canyon Railway and Bearizona. He mentioned the Verde Valley also has a wildlife park and he is very proud of the Verde Canyon Railway and encouraged cooperation between the areas.
Hermen gave a power point presentation on marketing efforts she has spearheaded on behalf of the Williams area. She complimented the staff of the chamber for its efforts on special events and promoting increased visitation to Williams.
"I am very proud that Gioia (Goodrum, chamber president) and I were successful in securing advertising matching grant funds from the Arizona Office of Tourism," Hermen said. "The increased number of travel shows the Williams Chamber is attempting to generate more media coverage and visitation to your community."