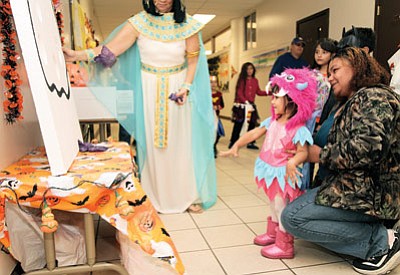 Originally Published: October 22, 2013 10:35 a.m.
Williams residents can get in the Halloween spirit through the end of October with haunted houses, carnivals, costume contests and trick or treating at events throughout town.
Harvest Fest at Heritage Elementary
Heritage Elementary School is putting on its annual Harvest Festival Oct. 25 from 5 to 7 p.m. at the school, 790 E. Rodeo Road.
Everyone is invited to attend the event, which features face painting, pumpkin bowling, bobbing for apples, a beanbag toss, musical chairs, a haunted maze, basketball game, ring toss, rubber ducky pool, and a jail and bail.
Different classrooms sponsor each booth, and the money they raise goes into each classroom's fund.
"It's a fundraiser for our school but also a time for kind of a second quarter kick off as far as getting the community and our families together," said Heritage Principal Kaytie Thies. "It's just a safe and fun family evening."
Game tickets cost 25 cents and are available at the door. Most games require one to two tickets.
Food and baked goods will also be available for purchase.
More information is available at (928) 635-3998.
Costume Bash and Chili Cook Off
Williams Neighbors Helping Neighbors is putting on a Bubble Bubble Boiling Trouble Halloween Costume Bash and Chili Cook Off. The event is at 7 p.m. Oct. 26 at the Sultana Theater.
The night will include costume contests, a Kids Corner, live entertainment from the Tommy Duke Blues Band, food and raffles. Organizers will decorate the Sultana in a haunted theme, with fog machines and Halloween decorations.
"It's going to be the biggest and the best Halloween party ever," said organizer Traci Fulkerson.
The event will also feature an old fashioned jail to raise money for the organization.
"You can opt to throw your family, friends and loved ones in jail for a short period of time and the audience has to bail them out," Fulkerson explained. "Now if you want to keep that person in jail after they've been bailed out, the person that wants to do it has to double the bail fund to keep them in for another 15 minutes."
For the food portion of the event, Fulkerson is expecting about 15 entries in the Chili Cook Off.
"We have entries from quite a few people, even some restaurants," Fulkerson said. "No one will know whose chili is whose, and we're going to have the audience vote on the best one."
The first place winner in the chili cook off wins $100 and the second place winner wins $50.
Those who aren't chili fans can enjoy other food, including hot dogs, chips and salsa.
Admission is $5, and kids are free with a paying adult. All proceeds go into the Neighbors Helping Neighbors General Fund.
"We've just had so many calls from people needing help, and especially with the government shutdown it's even worse," Fulkerson said. "So we're just trying to build money up in the general fund for when people call and say, 'Hey, my neighbor's electric is going to be shut off and we've been trying to help them, but we can't afford to do it. Is there any way you can help out?'"
More information about the Chili Cook Off is available from Christian Hutcheson at (928) 301-8283. Other questions may be directed to Fulkerson at (928) 635-5392.
Fall Carnival at WEMS
Williams-Elementary Middle School is putting on its annual Fall Carnival on Oct. 31 from 5:30 to 7:30 p.m. at the school, 601 N. Seventh St.
The third grade has been putting on the carnival for more than 10 years, said organizer and third grade teacher Deniz Chavez.
"It's just something that the community has always enjoyed coming to," she said.
The carnival will include games and prizes, a haunted house, a costume contest, a cakewalk, a bake sale and food.
The carnival will also feature a new event this year, which Chavez expects to be very popular.
"We have a pie-throwing event, which will include our principals, our superintendent," she said. "There's a couple of people that I've volunteered to do it."
Proceeds from that event will support 2014 Grad Night.
Different school groups will also sell refreshments, including green chili burritos, bean burritos with Spanish rice, nachos, pickles, soda and snow cones.
Attendees are encouraged to dress up and compete in the costume contest, which will have categories for different ages, including categories for adults and families.
Games will include a fishpond, a basketball shoot and a football throw, among others.
Game tickets cost a quarter each, and booths range from three to 12 tickets to participate.
"It sponsors any organization or any teacher that is participating in it," Chavez said. "They keep 80 percent of whatever they take in and third grade only gets 20 percent. But then this also helps sponsor the overnight trip to the zoo for the third graders."
More information is available at (928) 635-4428.
Trick or Treat at the Rec Center
The Recreation Center will offer trick or treating on Oct. 31.
"Trick or treating is available here from 4 in the afternoon for those who'd like to come early with smaller children until 10 that night to accommodate the teenagers," said Rec Center Director Rose Newbold.
Besides the candy, kids can enjoy Halloween crafts and refreshments at the Rec Center.
"Stop in, get some goodies, and have a safe Halloween," Newbold said.
More information is available at (928) 635-1496.
Sandovals' Halloween Maze
The Sandovals are putting on their annual Halloween Maze on Oct. 31 from about 5 to 10 p.m. at 631 W. Oak St.
"I've been doing it since my kids were little themselves, so it's been going on for a good 20 years," said organizer Christina Sandoval. "Over the years I just add to my Halloween collection."
Nowadays, Sandoval's children and grandchildren help out with the event.
"We're all dressed up in costume so they don't know what's real and what's not real," she said.
This year, Sandoval has some new animated dolls for the haunted maze.
"I try to make it scary just to have fun and get the excitement of some of the people coming through," she said.
The event is free for all ages, although Sandoval encouraged attendees to bring a can of food that she will donate to the Williams Food Bank. More information is available at (928) 635-2623.
More like this story