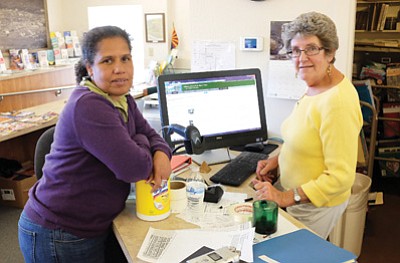 Originally Published: November 12, 2013 10:37 a.m.
Originally, the Williams Historic Photo Project was only supposed to take a few weeks to complete.
But now after four years of work, the once simple project has become an extensive historic photo collection, and organizers plan to continue expanding it.
Since 2009, Williams Librarian Andrea Dunn and Kaibab Heritage and Tribal Relations Program Manager Margaret Hangan have collected and scanned more than 1,500 historic photos that are available in a database at the library.
Now 129 of those photos are also available to anyone online through the Arizona Memory Project (AMP).
AMP started in March 2006. According to its website, AMP "provides access to the wealth of primary sources in Arizona libraries, archives, museums and other cultural institutions," including "government documents, photographs, maps, and objects that chronicle Arizona's past and present."
Williams is one of the few small towns to have a collection on the website, which Dunn and Hangan think could be because other small towns don't have the resources to put together a collection.
However, the photos on AMP are only a fraction of Williams' total photo collection. Hangan said she selected the photos to go on the website "based on major themes that I know that researchers are interested in." Those subjects include Route 66, the railway, ranching, forestry, and key people and events.
The complete Williams Historic Photo Project is available through a computer at the library, which Hangan backs up regularly.
"The main thing is we're preserving the history of Williams," Hangan said. "We're preserving this in a way that anybody can have access to it."
Hangan and Dunn started the Williams Historic Photo Project by scanning some of the library's photo collection. Soon after, several longtime Williams residents brought in their personal photo collections to add to the project.
"This has really been a boon for us because we're getting a lot of response and people are interested in contributing to it," Hangan said.
And residents are still bringing in their personal collections.
"It feeds on itself," Dunn said. "It's just a growing thing."
Dunn and Hangan started work on the historic photo project using Forest Service equipment. Then Dunn applied for and received a Library and Technology Grant from the state, which helped buy equipment to complete the project. As part of that grant, Dunn and Hangan got involved with AMP.
Now that Williams' first photo collection has been on the AMP website for a couple of months, AMP officials have already asked Dunn and Hangan to submit more photo collections to the website. The two are interested in eventually creating a railroad collection and a Mountain Man collection.
In addition, once Dunn and Hangan finish scanning the library's photo collection into their larger local database, they hope to scan several thousands of Forest Service photos to make them available to the public as well.
"So it's a project that's not going to go away soon," Dunn said. "We started the snowball and it's rolling."
The Arizona Memory Project is available online at http://azmemory.azlibrary.gov. The Williams Historic Photo Project is available at the Williams Library, 113 S. First St.
More information is available from Hangan at (928) 635-8342 or Dunn at (928) 635-2263.
More like this story