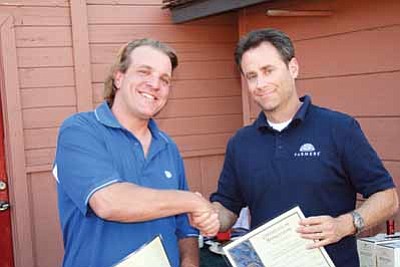 Originally Published: July 23, 2013 11 a.m.
WILLIAMS, Ariz. -Brian Prager is the new Williams Rotary Club President. He plans to continue the long history of the club's service to Williams and the youth of the area.
During the club's July 11 meeting, Prager thanked outgoing President Steve Lovas for his service and said he is currently working on plans for the Rotary Scholarship Western Auction, which will be in November. Vice-President Craig Fritsinger, Secretary Anna Dick, Treasurer Mike Dulay and Sergeant-at-Arms Allan Duncan will join Prager as Rotary officers.
Prager hopes to expand the local club's participation in the youth exchange program, which allows young professionals from other counties to visit our area as guests of the club.
The new president said he would also like to see the club sponsor two students from Williams High School to attend the RYLA Rotary youth camp put on each year in Prescott.
Williams Rotary has awarded more than $250,000 in scholarships to the youth of Williams over the past 30 years. The club recently celebrated its 90th anniversary and is recognized as one of the oldest clubs in the state.
The club would its to express their thanks to outgoing President Steve Lovas, and Rotarians Pam Dreher, Bill Miller and Ann Johnson for serving as officers of the club this past year. The group also thanks the community of Williams for its support of Rotary's fundraising efforts to support local youth.
Rotary is the largest humanitarian organization in the world with 1.2 million members in 34,000 clubs in more than 200 countries.
Rotary has meetings each Thursday at noon at Doc Holliday's Steakhouse.
More like this story