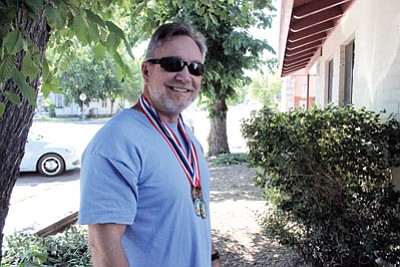 Originally Published: July 2, 2013 10:47 a.m.
Even in the heat of the day, people may see Williams resident George Bardwell sprinting up Slagel Hill. The exercise is part of his training to compete in track meets in Phoenix.
His training has paid off. Bardwell recently won two first place medals in two track meets in Phoenix.
Bardwell finished first in his age group in the 100-meter races in the Arizona State Championship about a month ago and the Grand Canyon State Games two weeks ago.
Earlier this year, Bardwell received medals in the Senior Olympics in the 50-meter race and the standing long jump.
Bardwell, 62, has been running off and on for a few years.
"It's one of the best ways of staying in shape," he said. "I love to compete."
Bardwell, a local chiropractor, said running is good for his health.
"It allows you to stay young and it gives you some goals," he said.
Bardwell's next meet will be Aug. 17, when he will compete in the 50-, 100- and 200-meter races at the Prescott Senior Olympics.
To train for his competitions, Bardwell usually sprints Slagel Hill once a week, trains on a track in Flagstaff a couple of times a week and does weight training three times a week.
"It is work," he said. "Even as you get older you still have to push and train hard."
Those interested in training with Bardwell may call him at (928) 606-1338.
More like this story