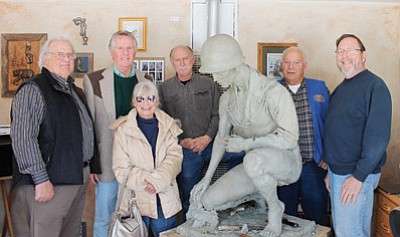 Originally Published: February 5, 2013 1:08 p.m.
WILLIAMS, Ariz. - Sculptor Neil Logan is making progress on the Williams Own Veterans Memorial, but he still needs about $12,000 to complete the statue, he told the Williams Kiwanis Club at the Jan. 30 meeting.
Logan has been a sculptor for 38 years. He explained the statue design and the status of the project to Kiwanis members.
"It's a Normandy-type soldier," he said. "He's just received a letter from home, he's got it against his chest, he's knelt down with his hands down. And behind him is a mural of the photograph that he's got in his hands. And it'll be done in relief sculpture. And it will be Bill Williams Mountain with his wife and his little boy and his dog in a photograph like they took back in the 40s."
Logan recently completed a fallen officers memorial in Flagstaff. When Flagstaff Police Chief Kevin Treadway heard about the veterans memorial statue, he offered to let Logan borrow part of his military uniform collection.
"He gave me all the exact uniforms that I need to make this a perfect, real, authentic soldier, so that I don't have to guess at what kind of helmet they had on, what kind of straps, everything is there, he gave it all to me to use," Logan said.
Although the soldier in the sculpture is from World War II, the memorial will honor all veterans.
"It's just a generic soldier because they all went through the same thing," he said. "It's for all veterans of all wars, living and dead."
Logan still needs to sculpt the uniform, but said he hopes to finish the clay sculpture by the middle of March. Once he finishes the clay sculpture, Logan will take it to a bronze foundry in Sedona.
Logan has been working on the sculpture for about 2 1/2 years. A sculpture like this would normally cost between $100,000 and $120,000, but Logan offered to make it for $47,000. Almost half of that amount goes to the bronze foundry. So far, the committee has raised about $24,000.
Logan said he hopes to get the sculpture to the foundry by April so they can unveil the statue this Memorial Day.
As he has done with past sculptures, Logan will invite the public to go to the foundry and watch the workers pour the bronze for the statue.
"I can walk you guys through and show you how the process works. It's pretty amazing," Logan said. "If people knew how difficult it was to do one of these things, not just the artwork but what happens after the artwork, it's a lot easier to get people to understand why they're so darned expensive."
Workers at the foundry will cut the statue into about 20 pieces. Those pieces will go through two mold processes. Once the bronze pieces are complete, the workers must weld them together, apply a patina and mount the sculpture to a base. The process will take at least two months. Logan expects the finished statue to weigh about 475 pounds.
Although the committee still needs to raise about $22,000, Logan said a donor has offered to match as much as $10,000, so the committee only needs to raise about $12,000.
Kiwanis Club members suggested finding corporate donors for the project.
Logan also offered to do signed and numbered pencil drawings of the face of the statue, mount it in a piece of wood and give them to people who donate a certain amount.
Another option is to sell tickets to the bronzing event, which would include a bus ride to Sedona, an explanation of the process and dinner.
Kiwanis member Carol Glassburn said a local radio station has agreed to mention the memorial on the air.
"We're going to make it happen somehow," Glassburn said.
For statues Logan has done in the past, committees have organized charity concerts or found car dealerships that donated $500 for every car sold until they raised enough money.
Logan said he has a friend who helped fundraise for the Flagstaff fallen officer statue that could give fundraising advice at a future Kiwanis meeting.
"It's getting pretty dire here," he said. "But you know what guys, I have all kinds of faith. And there's good people in this community. That's why I love being here."
Those interested in donating to the memorial may contact Carol Glassburn at (928) 635-4503.