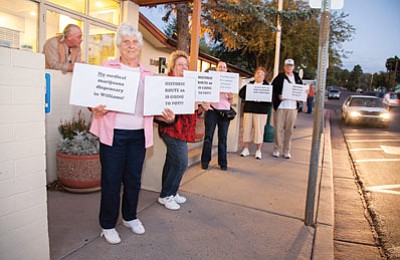 Originally Published: September 25, 2012 10:08 a.m.
WILLIAMS, Ariz. - Despite a number of impassioned pleas from the public to vote down a medical marijuana dispensary in Williams, the Williams Planning and Zoning Commission (P&Z) voted 3-1 Sept. 20 to recommend the city council approve the facility on Route 66.
If approved by council this Thursday, Cannabis Research Group (CRG) would have the go ahead to open a dispensary at 341 East Route 66 in the old Poquette Realty building.
A small group of protesters held signs outside city hall before the P&Z meeting in opposition to the proposed dispensary. The majority of those in attendance opposed the facility as well.
P&Z Chairman Buck Williams opened the meeting by explaining exactly what the P&Z Commission was tasked to do. He said after Proposition 203, Arizona's Medical Marijuana Act, was approved it became mandatory under state law to allow for dispensaries under city ordinances.
"We could not as a commission, nor could city council, nor anybody set restrictions that would deny somebody setting up that facility," he said, adding municipalities are however allowed to set parameters for the creation of dispensary sites within city limits.
Williams went on to say the only task the P&Z Commission would focus on that evening was to determine whether officials with CRG were in compliance with city ordinance 916 and the conditions of the conditional use permit.
A number of those in attendance spoke out against the facility, many concerned with its location on Route 66 in downtown Williams, its possible effect on the tourism industry and the message such a facility might convey.
Priscilla Lagiere maintained a dispensary would not be consistent with the nature of other businesses in the immediate area.
Former city council member Bill Miller agreed with Lagiere. He said the proposed location was not acceptable.
"There are other places that should be sought out to give it a better location out of our tourist district," Miller said.
Miller also expressed concern that medical marijuana cards would be readily available to individuals with dubious medical needs.
"What I fear, is that because it's in our tourist area, we're going to develop a tourist trade that will come here and participate in that and then we have to settle with the consequences of whatever abuse might take place if it does," he said.
Ryan Schmitz said he lives in Williams for its quality of life and because the city provides a great place to raise a family.
"The question is, 'what do you want to communicate? What image do you want to communicate in Williams?' Yes, we all know the voters for whatever reason got bamboozled into passing this," he said.
Schmitz went on to say he supports medical marijuana for cancer patients, just not in Williams.
"I'm not against people in chemo being able to get high," he said. "But, let them go to Flag or let them go somewhere else but not on (Route) 66 for an abundance of reasons."
Ruth Sanzari said she feared extensive print advertising promoting a dispensary on Route 66 and that such a facility might hurt local businesses including restaurants and the Grand Canyon Railway.
Not everyone voiced concern. Margaret Mason spoke in favor of the facility.
"I think it will be a very good thing for the town," she said. "It will help revitalize this uptown area that is just starting to perk up and I think there is a lot of need for the medical marijuana dispensary."
Following initial public comments, Tim Moore and Patricia Wuensche, with CRG, answered questions from the public.
Mason asked Moore where cultivation would occur. Moore said a cultivation site had yet to be determined but will not take place in the immediate area.
As for security, Moore said all marijuana would be secured in a locked safe at all times barring when needed during working hours. Bars or security shutters will be installed inside the building as well.
"There are really only two, four, six windows I believe," Moore said.
Video surveillance systems and alarm systems will also be installed.
Wuensche said the facility will serve individuals in and around Williams with a medical marijuana card but much of the focus of the dispensary will be to provide medical marijuana to the research center's patients in Scottsdale at Desert Springs Cancer Care.
"What we're doing is trying to alleviate nausea in cancer patients because they are so nauseous that they can't eat," she said. "It causes them to lose a tremendous amount of weight. That is so detrimental to their health when they're going through chemotherapy. We're trying to stop their wasting or actually increase their weight so they can better accept therapy and have a better chance at successful treatment."
"Our patients down in Scottsdale will receive their product from whatever cultivation site we eventually put together. We don't have any plans for a cultivation site in Williams. Your cultivation site doesn't have to be where your dispensary is."
According to Wuensche, there are 60 registered medical marijuana users in the Williams area. There are 1,700 patients at Desert Springs Cancer Care with approximately 1,000 in clinical trials presently. She said none of those patients would be traveling to Williams to pick up medical marijuana.
With only 13 illnesses on the approved list for medical marijuana and cards not certified out of a dispensary facility, Wuensche said there is no way a marijuana tourist trade could take hold in Williams.
"It's not like you can stub your toe, go in and say I need a card," she said. "It doesn't happen that way. There is no way a tourist bus can pull up here and get a one day card."
Moore said the location on Route 66 was not the group's first choice.
"Our original choice was not that building," he said. "It was a gas station that was in such horrible shape that we couldn't even do anything with it. Frankly that building was available and had the correct zoning. It was not a conscious choice to be on Route 66. We're not looking to advertise and have walk in traffic there. Frankly, we can't do that for one because it's against the act."
In response to requests from the public to find a new location within Williams for the dispensary, Moore said there just aren't a lot of properly zoned usable options.
"I will say this, and I do understand everyone's concerns, the group that we are here, I can't speak for everyone else that made an application up here, but I can tell you unequivocally, you're not going to find better business partners and better people to be up here. We're mature people. We're business people and we're looking to respect the values everyone has here," Moore said.
Following the public participation portion of the meeting Chairman Williams addressed the public's concern that the facility might stir up trouble on Route 66.
"That is something you can't handle until it comes up sir," he said. "It's like putting up a liquor store or a bar. You can't tell me there is not going to be a drunk driver. There is not going to be somebody trying to break into the liquor store. It's something that can't be determined until it is done. A conditional use permit can be canceled as easily as it is issued."
Commissioner Harry Schmitz said the business is not consistent with the city of Williams general plan and tourism in general.
Commissioner John Holst asked what a more appropriate location might be.
"I live next to the Canyon Club and I'm going, listen, this will have no impact anywhere close to the day and night out of control drunks up and down, amplified four nights a week. And, we put up with it," he said. "And, I don't see a person in this crowd that even talks about that. That doesn't make this right or good. I'm saying we keep talking about the image of Route 66. Let's get over that."
Holst added the guidelines created by the city of Williams are fairly stringent and that if a dispensary is placed out of site, more opportunity exists for illicit activity under the radar.
"We're better off having it in public and requiring that it be in full sight of everybody knowing that this is a potentially hazardous situation. Could be. And, keeping an eye on it," he said.
Williams said the location in question meets the required criteria.
"The location he has picked rubs people the wrong way but it falls within the parameters and the laws of the state of Arizona and the ordinances of the city of Williams," Williams said. "We do not have the right to tell him to take his business down to the freeway just like you don't have the right to tell me to take my business back on the back street."
Massey agreed with Holst that a downtown location was likely more secure than elsewhere in Williams.
Holst, Williams and Massey voted to approve the conditional use permit with Schmitz voting against and Gabe Ayala abstaining. The commission will now recommend to the city of Williams City Council that the conditional use permit be approved.
Kellie Peterson, city attorney for Williams with Mangum, Wall, Stoops & Warden, P.L.L.C., said if the city council approves the application, then the applicant will be granted a conditional use permit for the property.
"Essentially, the city is stating that the use does not violate the zoning code, but does not make any representations as to the legality under either state or federal law of the operations of the dispensary," Peterson said.
The city council meets at 7 p.m. at Williams City Hall tomorrow.
More like this story