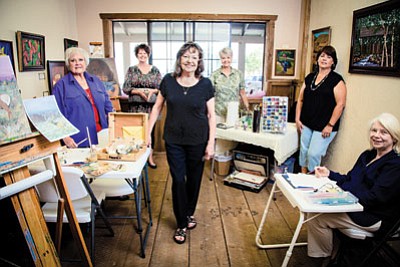 Originally Published: September 11, 2012 10:40 a.m.
WILLIAMS, Ariz. - Art galleries have not really been prevalent in Williams but over the last year there has been a trend toward celebrating local artists' work in town.
The Gallery in Williams, a co-op, artist run gallery, has been open about a year and now the Open Studio at 106 S. Ninth St. has opened its doors.
Helen Gorney said most of the women involved with the Open Studio have painted together for years, initially gathering at Coconino Community College before moving to the Williams Senior Center.
"But, at the senior center we weren't able to display or sell our artwork," she said.
When space became available in the shopping center, Gorney said she and her husband Rich thought the timing was right to open the studio in order to display the group's work.
Why call it the Open Studio? Because there is a dedicated workspace incorporated amid the gallery space.
"We are encouraging the public to come in and paint with us and we will eventually have painting lessons as well," Gorney said.
The studio is open Thursday through Sunday from 10 a.m. to 6 p.m. Community members are invited to celebrate the Open Studio's grand opening Saturday from 5-8 p.m. Food and beverages will be served.
More like this story