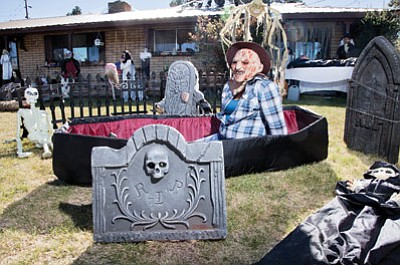 Originally Published: October 23, 2012 12:28 p.m.
WILLIAMS, Ariz. - With vampire movies, zombie television shows and werewolves at an all-time high popularity-wise, it's no surprise that in Williams there will be plenty of frightening activities this Halloween season.
Haunted mazes, spooky decorations, dances, carnivals, haunted houses, costume contests, and of course plenty of candy will all be offered around town.
Sandoval's Halloween House
Open to kids and adults of all ages, the Sandoval family presents their Halloween Maze from 5:30 - 10 p.m. Oct. 31 at 631 West Oak Street.
According to Christina Sandoval, the spooky outdoor maze through a cemetery and gaggle of frightening characters and scary noises has become a yearly tradition since 2006. This year, she has added even more props to the popular Halloween attraction including "children of the corn" and a chainsaw-wielding maniac just to name a few.
"Guests will walk up through the drive way, we'll have some oak trees there that they'll go through, they'll come around there and end up on the front porch, and then go all the way to the other end of the house," said Sandoval.
Sandoval expects the maze to take about five minutes, and treats will be handed out to brave visitors once they complete their journey.
"Some parents drop their kids off but won't go through the maze at first. But then we'll see them coming back later to get the scare," Sandoval added. "You even see guys that think they're big and bad and they won't even come in."
This is also the third year the Sandovals will be accepting cans of food to donate to the Williams Food Bank. Sandoval asks those that are interested in stopping by to please bring a can of food to donate, but all are welcome either way.
For additional information call Sandoval at (928) 814-6915.
WEMS Halloween and Fall Carnival
Williams Elementary Middle School will host their popular Halloween and Fall
Carnival this Thursday from 5 - 7:30 p.m. The annual event will include a costume contest, haunted house, basketball shoot, football toss, and plenty of food including bean burritos, nachos, pickles and more.
The costume contest is divided into age categories all the way up to adults. Prizes include stuffed animals, personal pan pizzas from Pizza Hut, and ice cream sundae coupons.
There is no entrance fee but tickets will be sold four for $1. Tickets pay for everything from food to games and can be bought at the door.
Game booths will include a fishpond, balloon dart throw, face painting, golf putting, miniature bowling and more. Most games require three or four tickets to play.
Heritage School Harvest Fest
Everyone is invited to Heritage Elementary School's Harvest Festival this Friday from 5 - 7 p.m. This is a family event featuring food, games, and exciting activities.
Carnival style booths will include activities like face painting, bean-bag tossing, pumpkin bowling, a fishing booth, bobbing for apples, putting someone in "jail" for "bail," and a bake sale and hot dogs. Prizes will be awarded.
Tickets are .25 cents each and are sold at the door. Most games require one or two tickets. Guests are encouraged to wear costumes.
Heritage Elementary School is located at 790 East Rodeo Road. For more information call (928) 635-3998.
Recreation Center Halloween Teen Dance and Family Party
The Halloween Teen Dance is Saturday from 9 p.m. - midnight at the Rec Center for youth ages 13-19. Music, prizes, food and drinks will all be provided. Scott Rincon from Williams High School (WHS) is the deejay for the dance.
"Saturday's going to be a fun time," said Rose Newbold, recreation director. "We haven't been able to have a dance here for a while. So this is going to be great."
There will also be a costume contest judged by the crowd. All those who wear a costume will get in free and receive a prize bag. Entrance fee is $2 for those not wearing a costume.
The Halloween Family Party is Oct. 31 from 5 - 8 p.m. at the Rec Center. The whole family is invited for games, crafts, goodies, prizes, trick or treating and more.
Canyon Club Halloween Party
The Canyon Club is throwing a Halloween party and holding a costume contest Saturday from 9 p.m. - close. Along with the costume contest, the party features drink specials, a potluck, and plenty of prizes. Prizes will be awarded for best overall costume, scariest costume, most original costume and more to be announced.
The Canyon Club is located at 126 West Bill Williams Avenue and can be reached for more information at (928) 635-2582.
Denny's Halloween Costume Party
Denny's will host a Halloween Costume Party in their lounge this Saturday from 5 p.m. - close with live music from 8 - 11 p.m. Patrons are encouraged to take advantage of great appetizers and drink specials.
Prizes including Denny's gift certificates will be given to those with the best costumes.
Denny's is located at 2550 West Route 66. For more information call (928) 635-2052.
Junipine Fire Station Fall Festival
Junipine Fire Department's fifth annual Fall Festival takes place 5 - 8 p.m. Oct. 31 at the firehouse.
"Everything is free except for the cake walk," said Betty Harris, secretary treasurer for the Junipine Fire Department. "We only charge a quarter though for the cake walk."
Harris said the department has new games and activities this year, and hopes everyone shows up in costume as well.
A raffle will also be held during the event. Prizes from raffles in the past have included Bearizona passes, a helicopter ride for two courtesy of Papillon Grand Canyon, 1,500 gallons of water courtesy of Running Water, and a video game console.
Junipine Fire Station is located at 7422 North Ponderosa Drive and can be contacted for more information at (928) 635-1010.
Community United Methodist Church Trunk or Treat
For those interested in finding a safe way to trick or treat, look no further. On Oct. 31 at 6 p.m., Trunk or Treat will take place in the parking lot of the Community United Methodist Church.
There will be games, carnival events and plenty of candy. Hot dogs, hamburgers and drinks will be available for everyone as kids enjoy the decorated trunks and all the treats.
The Community United Methodist Church is located at 127 West Sherman Avenue. For more information the Church can be reached at (928) 635-2511.
More like this story