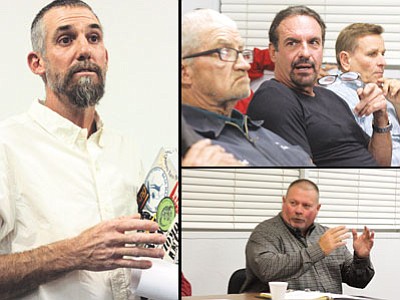 Originally Published: October 2, 2012 10:35 a.m.
WILLIAMS, Ariz. - Despite vocal resistance from the public against the possibility of a local medical marijuana dispensary on Route 66, the Williams City Council voted unanimously to approve the facility Sept. 27.
Cannabis Research Group (CRG) now has the go ahead to open a dispensary at 341 East Route 66 in the old Poquette Realty building via conditional use permit.
The facility will serve individuals in and around Williams with a medical marijuana card, but the majority of the dispensary's focus will be to provide medical marijuana to the research center's patients in Scottsdale at Desert Springs Cancer Care.
There are 60 registered medical marijuana users in the Williams area and 1,700 patients at Desert Springs Cancer Care with approximately 1,000 in clinical trials presently. None of those patients would be traveling to Williams to collect medical marijuana.
Mayor John Moore opened the meeting by explaining that after Proposition 203, Arizona's Medical Marijuana Act, was approved it became mandatory under state law to allow for dispensaries under city ordinances.
"We have to think about the legal issue not the moral issue," he said to members of the public, a number of whom were there to voice concern about the dispensary's downtown Route 66 location, its possible effect on the tourism industry and the message it might convey.
Local resident Ryan Schmitz, who also spoke out against the dispensary at the Sept. 20 P&Z meeting, said that if his biggest concern was safety, then he considers the zoning to be "fine." If it was the effect such an establishment might have on the tourist industry, then having no signage would be fine. But those weren't his biggest concerns.
"It's not about what's in the building, it's what is communicated about standards," Schmitz told council members. "It's an ideological Trojan horse, and the same has gone on with tons of morality, the more exposure you get to it, the more acceptable it becomes. I can tell you that as an ex-user, that it's not funny, and it's not just like alcohol."
In response to requests from the public to find a new location within Williams for the dispensary, Moore said there just aren't a lot of properly zoned usable options.
"We cannot pick and choose where we want our zoning permits to be," Moore said.
Williams Police Chief Herman Nixon said that the dispensary will be in a location his officers can easily patrol, therefore more practical than if it were placed in a residential area.
Williams resident Bobby Patricca asked the applicant, Tim Moore, if he was worried about future animosity shown towards the dispensary.
"We honestly didn't expect this type of reaction. We thought this would be a more open minded town that would say, 'yeah, that's a progressive idea, let's do that,'" Moore answered. "I don't mean to say that off-handedly at all, because we are very concerned about what people think, and I think what will happen is time will tell."
One member of the public, who attends council meetings regularly, spoke in support of the dispensary.
"I've read a lot about medical marijuana and dispensaries, and I support it," she said. "I wasn't sure I supported having one on Route 66 until I attended the P&Z meeting last week. This is something that is coming to Williams and I think it's coming in a good way at a very good place."
A marijuana cultivation site has yet to be determined but will not be located in the immediate area.
As for security, Tim Moore said all marijuana would be secured in a locked safe at all times barring when needed during working hours. Bars or security shutters will be installed inside the building as well. Video surveillance systems and alarm systems will also be installed.
More like this story