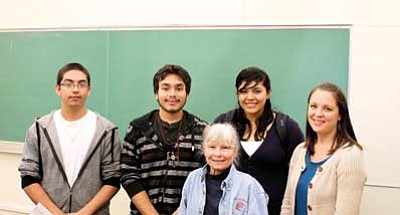 Originally Published: November 20, 2012 12:09 p.m.
WILLIAMS, Ariz. - Most Williams residents know about the Clean and Beautiful committee and all the projects and tasks they take on to make their community cleaner, healthier, more beautiful and more livable.
Even teenagers are taking notice of the good work.
Several Williams High School (WHS) students recently approached Carol Glassburn, chairperson of the Clean and Beautiful committee, and asked how they could get involved.
Julio Belmontes, Noel Calderon Martinez and Andrea Ayala are three of the students looking to create their own "junior" version of Clean and Beautiful. The three students attended a Nov. 6 Clean and Beautiful meeting at WHS to present their ideas to committee members.
"I wanted to start an organization that does cleanup once a month, and go from there and see where we head," said Belmontes. "Some areas downtown are still somewhat messy and not well picked up. A lot of sidewalks, especially in front of or near businesses, aren't as clean as they could be."
Belmontes, president of the WHS art club, said the club is working on projects around town, which caused him to be more aware of the city and its general appearance.
The students named their junior version of Clean and Beautiful "Williams Community Cleanup."
Jessica Heisley, WHS science teacher and Clean and Beautiful committee member, said she is interested in sponsoring Williams Community Cleanup, making it an official WHS club.
Glassburn suggested the student cleanup crew could also work on cleaning trails, the Williams Senior Center and, if they wanted "a lifetime project," the rodeo grounds.
"As soon as funding is available we want to work on Cureton Park. It needs help, badly," said Glassburn. "The plan is to tear down the old swimming pool in the blue building and try to put a Tee Ball field or something in there for the kids. The basketball court and horseshoe pits also need to be redone."
Glassburn added that after Cureton Park, her committee's next major project is renovation and cleanup of Monument Park, hopefully in the spring or summer.
The Clean and Beautiful committee unanimously approved donating $100 to Williams Community Cleanup for trash bags, gloves, trash pickup sticks and orange vests.
"We want to start with just picking up trash, but then move on to making the community look even better," Belmontes said. "Start with trash so people know where the problem areas are if they don't already, and then move up to maybe doing plants, further cleanup, and just making it look really nice."
Currently, Clean and Beautiful sponsors two official cleanup days per year, one in spring and one in fall. Belmontes said he hopes Williams Community Cleanup can have one per month.
"Julio is an inspiration," said Calderon Martinez. "He wants to be a part of something big, and I want to be able to help him out with that."
Glassburn said the Clean and Beautiful committee looks forward to working with WHS and students who volunteer their time to help out. She said Clean and Beautiful also hopes to help build a greenhouse on school grounds, leading to more food being donated to the Food Bank as well as the possibility of having fundraising farmers markets.
"The more people that are willing to help, the better," Glassburn said. "We can't do it on our own."
The WHS art club is also helping create a float to be featured in this year's Fiesta Bowl parade.
More like this story