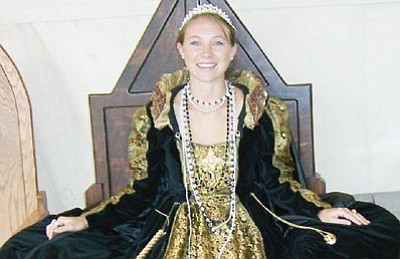 Originally Published: February 21, 2012 9:45 a.m.
WILLIAMS, Ariz. - Grand Canyon Renaissance Fair Director and local business owner Mark Worden is pleased to announce the return of the fair June 29-July 1. The fair will be held on property off Interstate 40, Exit 167 on the south side west of Garland Prairie Road.
"It is a primitive, but beautiful site with nice trees, a great view of the San Francisco Peaks and easy access on and off I-40," said Worden. "It is close to camping and to Williams' many hotels, shops and restaurants giving our patrons a chance to really enjoy our town."
"We will create a great faire with a renaissance encampment tucked right into the trees on this site," said Worden. "I have been trying to bring an annual renaissance venue to Williams since at least 2000 and now the time has come.
"If the town gets behind this with support, we hope to make Williams our permanent home," he said. "We have been called 'one of the best small faires in the country' by many and we are very excited to have the Grand Canyon Renaissance Faire in Williams. We have a great event that combines music, comedy, stage shows, living history, demos, games, swordplay, Middle Eastern dance, a summer marketplace and much, much more."
According to Worden, vendors come from all over the country, bringing rare and unique treasures here that cannot be purchased elsewhere. He said the original programming at the faire cannot be seen anywhere.
"The Poorman's Comedy Joust and Combat Foray was a huge hit at the last faire and we expect it will be again," said Worden.
Worden is working with local author, actor, singer and public speaker Cameron Haney on a new show called "Cam" A Lot: Cameron Haney Goes Wild! This will be a one man show featuring Haney's diverse talents of comedy, music, oratory ability and more.
The queen and her court will welcome all who attend. Troupe Shuvani will perform and is a tribal fusion dance troupe that provides skirt and veil dancing and sword, candle and basket balance. Volunteers, actors, dancers, entertainers, storytellers and many others add to the event, according to Worden.
"There are many enthusiastic supporters of the Grand Canyon Renaissance Faire here in Williams including local author of 'The Silverush Trilogy' Carl Bilharz and his family. He has been an advocate for this project for many years," said Worden. "It has long been the dream of many involved in renaissance events in northern Arizona to build a hard site summer renaissance venue to meet the needs of the faire as it continues to grow. The faire organizers are actively working towards that goal.
"We are searching for the proper sponsorship, investment and partners to make the dream of a permanent dedicated hard site for this faire and other events a reality. We will also have some artistic renderings at the faire of the type of venue we would like to bring to Williams in the near future," said Worden.
Worden said sponsors, volunteers, actors, musicians, support from school and church groups, private and civic organizations, motel rooms for performers and staff and more is needed.
"Let us work together to make this an exciting event for Williams for this year and the years to come," he said.
To learn more, visit gcrenfaire.com or call Worden at (928) 635-2394.
More like this story