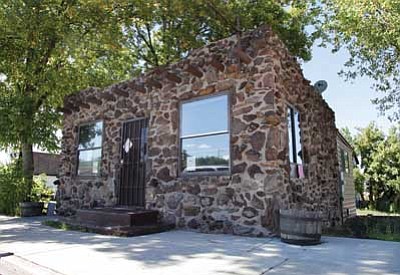 Originally Published: December 18, 2012 12:14 p.m.
WILLIAMS, Ariz. - An official with a medical marijuana dispensary planned in Williams believes it will open its doors next month.
Cannabis Research Group has installed security measures and completed the Arizona Department of Health Services (ADHS) requirements for the dispensary, located at 341 E. Route 66.
"We're very, very close," said Tim Moore, president of Cannabis Research Group, adding that they are just putting on the finishing touches.
Moore hopes to have ADHS officials inspect the Route 66 Wellness Center in the first week of January.
"Our plan moving forward is opening the week after our inspection from DHS," he said.
Moore is unsure of how many people the Route 66 Wellness Center will employ.
The ADHS minimum requirement for hours of operation is 30 hours per week.
"At this point I don't think we'll exceed that," he said.
Two weeks ago a Maricopa County Superior Court judge ruled that the county must process the required zoning paperwork for a dispensary in Sun City, Ariz. The decision also states that federal laws prohibiting marijuana use do not preempt the state law.
Moore was pleased with the Dec. 4 ruling.
"It gives us all a chance to move forward with the medical marijuana initiative in Arizona," he said.
Arizona's Medical Marijuana Act passed in November 2010. Qualifying patients with a state issued identification card may obtain 2 1/2 ounces of marijuana every two weeks to treat chronic or debilitating diseases or medical conditions.
The Williams Planning and Zoning Commission voted 3-1 on Sept. 20 to recommend the city council approve the dispensary. The Williams City Council unanimously approved the facility Sept. 27.
While the dispensary will primarily focus on providing medical marijuana to patients at Desert Springs Cancer Care in Scottsdale, Ariz. the dispensary will also serve people in and around Williams with medical marijuana cards.
"We look forward to servicing medical marijuana patients in northern Arizona in the very near future," Moore said.
More like this story