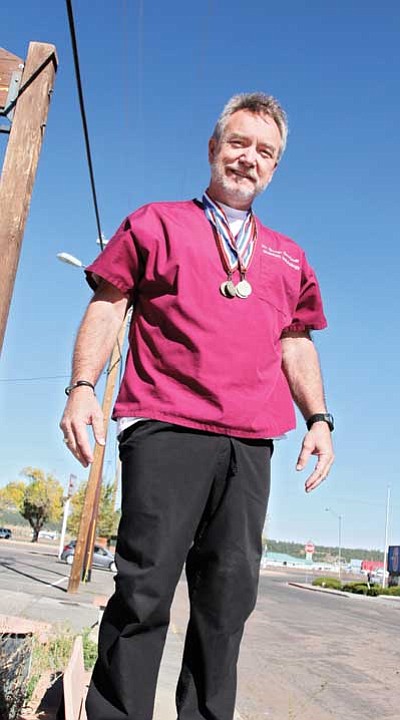 Originally Published: October 25, 2011 11:43 a.m.
WILLIAMS, Ariz. - Want to get in shape? Try sprinting up Slagel Hill. And lifting weights. And finding a track in the area for more running workouts.
That's what Williams resident George Bardwell did prior to competing in the Flagstaff Senior Olympics Oct. 8. Not only did he enter four track and field events, he placed first in each one.
The event for participants 50 years old and over features a variety of events.
"They have a number of the same events that the regular Olympics would have," Bardwell said. "Track and field, swimming and all kinds of fun stuff. Marathons."
Bardwell came away from the event with gold medals in the 50-meter sprint, 100-meter sprint, 200-meter sprint and standing long jump events.
This isn't the first time Bardwell has laced up his running shoes and hit the track for competition.
"I did it back in my younger days," Bardwell said. "I started back again a few years ago and had a couple of injuries. I finally got motivated to lose the weight again. I've lost 25 pounds so far."
It took six weeks for Bardwell to get down to his running weight.
"I feel a lot better," he said.
In order to stay in shape for competition, Bardwell, a chiropractor, nutritionist and director of recently opened Club Reduce weight loss clinic, said he completes some form of resistance training, bands or weights, three times per week and cardio/sprint training every other day, taking a break on Sunday.
Much of his sprint training takes place on Slagel Hill. For track workouts, Bardwell heads to Ash Fork. Once winter sets in, he plans to head to Prescott or Phoenix for warmer workout weather.
Having found success in Flagstaff with first place finishes and personal best times, Bardwell plans to enter more meets. The Senior Olympics organization holds events throughout the state with meets scheduled in December, January and February.
Comparing his race times to results from other Senior Olympics meets in the state was even more encouraging.
"My personal bests were almost good enough to win the state championships and maybe better if I'd had some more competition," he said. "That's why I was really excited. This could be a fun time now."
Bardwell is now on the organizing committee for next year's Flagstaff event.
"We're going to try to really build it up and get some big advertising and maybe have a '50s sock hop dance associated with it," Bardwell said.
Arizona Senior Olympics is a program of the Arizona Lifelong Fitness Foundation, a non-profit organization dedicated to promoting and implementing fitness programs and activities for people fifty years and better.
For more information, visit www.seniorgames.org.
More like this story