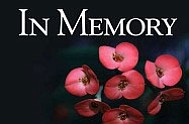 Originally Published: July 12, 2011 3:46 p.m.
Eddie Lee Brown, 67, passed away Thursday, June 16, 2011.
Eddie was born to the late Henry and Essie B. Brown on Nov. 7, 1943 in Wildsville, La. The family relocated to Peach Springs, Ariz. in 1952. In 1957, the family settled in Williams, Ariz. where Eddie continued his education and graduated from Williams High School in 1962.
Eddie accepted Christ at an early age, was baptized and became a member of Galilee Baptist Church in Williams. Eddie was affiliated with the Masons of the Friendship Lodge No. 21. He enjoyed fishing and hunting and the excitement of bowling and joined numerous bowling leagues.
On Dec. 31, 1965 he married Diane V. Levels and to this union four children were born. In 1979, Eddie and Diane relocated their family to Phoenix, Ariz. where they became members of Greater Shiloh Missionary Baptist Church.
Throughout his adult life Eddie drove semi-trucks all across the country. He enjoyed his travels and frequently shared with his family and friends the joyful experiences that his work allowed him to have. The life of Eddie Lee Brown ended on June 16, 2011 about 10:37 p.m. when the semi-truck he was driving overturned on Interstate 10 outside of Blythe, Calif.
His precious memories will live on in the lives of his wife Diane; his children Sonia Brown, Romonica Bowman, Sherril Brown-Carter (Rodrick), Eddie Brown and Tanika Brown; five brothers Henry Brown Jr. (Esther), Edgar Brown (Nell), Robert Brown (Barbara), Anthony Brown and Earrie Jay Brown; three sisters Emma Stevenson, Annie Brown and Freida Stewart (Elmer); three grandsons Tsar, Micah and Kai; five granddaughters Chloe, Brianna, Chastity, Kiana and Charissa and great-grandchildren; and a host of nieces, nephews, sister-in-laws, brother-in-laws, cousins and friends.
Eddie is preceded in death by his parents Henry Brown Sr., Essie B. Brown and sister Nina Maxine Baker.
Services were held on Monday, June 27, 2011 at Greater Shiloh Missionary Baptist Church in Phoenix. Interment followed at Phoenix Memorial Park.
Preston Funeral Home Inc. was entrusted with arrangements.
More like this story