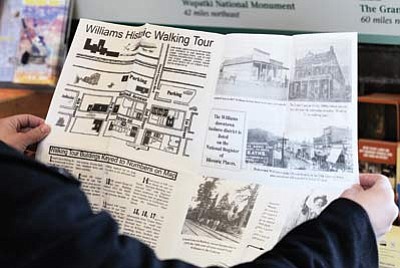 Originally Published: February 8, 2011 1:56 p.m.
WILLIAMS - The Williams Main Street Association is ready for the upcoming tourist season, producing a new historical walking map and procuring new historic building plaques for some downtown buildings.
Sue Atkinson, coordinator of the Main Street Association, said 14 years after their first printing, the maps have enjoyed a much needed facelift thanks to grant funding.
"What we did was rearrange things, put the buildings in a better order, add a few more buildings and updated all the descriptions," she said.
The funding comes courtesy of the Arizona Department of Commerce and Arizona Main Street Association, specifically for republishing the maps. a total of 35,000 historical walking tour maps and seven building plaques were produced for a total grant sum of $6,975.
The tour maps correspond with the historical plaques located on buildings around town. Yvette Hudson from the Historical Commission helped secure all the relevant information for the maps and plaques.
The walking maps and plaques are key tools to convey the rich history of Williams, which visitors to the area are curious in exploring, Atkinson said.
"People just love it," she said. "The maps have always been a strong piece for us. People just love the cultural heritage. They want to come and they want to see the history."
The Main Street Association plans to install the plaques when weather improves. They will be placed in the following locations: the Crowe-McCoy building which is now an empty lot, the Arizona Nine formally Thurston Hotel Cottages, Canyon View Realty, originally Whisky Alley Saloon, Sundancer gift shop, which used to be the Grand Canyon Tavern, Cruisers Restaurant formally Bennett's Auto, the Grand Canyon Hotel and finally the Bowden building, where the Addicted to Deals shop currently resides.
More like this story