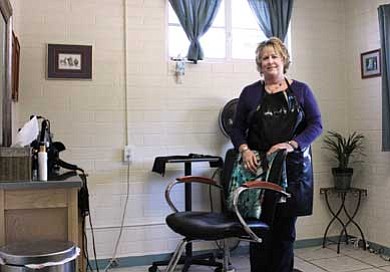 Originally Published: February 1, 2011 2:41 p.m.
WILLIAMS - For a different kind of salon experience, try Lyndie's Salon.
Located on 114 S. Second St., owner Lyndie Marruto opened a new salon last November flying completely solo, with hopes that she can create a tranquil place for her clients to come and relax while they get their hair done.
"I just decided that I wanted to work by myself. I've been doing hair for 33 years and I like having my environment peaceful. I like to be able to focus all my attention on my client and it is just easier for me to do that by myself," Marruto said.
She went on to explain the reason behind her move, and how working alone helps her focus on her customers.
"I don't really feel like at this point in my career that I need to work in a salon with a lot of people, where there is a lot of different energy around me," she said. "You have to be passionate about the business, you have to be skilled and you have to really enjoy your clients. It is easier for me to enjoy them one on one and not have them stacked and trying to do two people at once."
Marruto's cosmetology license shows her competent skills in all aspects of the beauty industry, but her specialty and love is coloring.
"Cuts, perms, styling, up-dos, I do everything, but color was my specialty in California and it's always been something I love doing. I was also a make up artist for many years as well," she said.
In between clients, Marruto manages to find time to create distinctive pieces of jewelry, which are available for purchase in her salon.
"I like to use real sterling, real gemstones and pearls. I use Swarovski crystals and occasionally I will use antique beads," she said. "I don't like costume jewelry, I like to work with real metals and minerals. It just is very relaxing for me."
Marruto is participating in Meant To Rescue's 'Cut-a-thon' fundraiser. All proceeds from discounted haircuts will go to the local animal rescue group. The event is Feb. 13 from 9 a.m. to 5 p.m. at her salon.
To make an appointment, call (928) 864-8733. Walk-in's welcome.