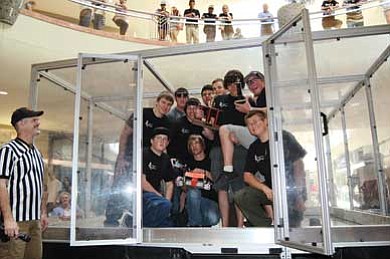 Originally Published: December 20, 2011 10:27 a.m.
The end of 2011 is quickly arriving, but it is not too late to donate monies to the school of your choice through the Arizona State Tax Credit program. A tax credit donation to the school of your choice will reduce your 2011 income tax owed to the state of Arizona, dollar for dollar. The donation will cost you nothing since your donation will be returned to you when you file your state income tax return next year.
Tax credit monies are used to fund school-sponsored extracurricular activities that require students to pay a fee in order to participate. Fees include monies utilized for equipment or uniforms for varsity athletic activities, scientific laboratory materials, and in-state or out-of-state trips that are solely for competitive events. For more information on which programs apply, contact the school of your choice.
Those wishing to donate are not required to have children. Anyone with or without children, married or single, is eligible to take advantage of this tax credit. The $400 maximum state tax credit is available for taxpayers that are married and filing jointly. The maximum amount of this credit is $200 for single taxpayers or heads of household. You may donate less than $400 and still be eligible to receive the state tax credit in the amount of your donation.
We recommend donating to the tax credit program. It's a win-win for all and it's a great way to help students. To qualify for 2011, donations must be postmarked no later than Dec. 31. Four school districts - Ash Fork, Grand Canyon, Maine Consolidated and Williams - and one charter school - Heritage Elementary - are located in our immediate area. To find out how you can help any of these schools, contact the Ash Fork School District at (928) 637-2561, Grand Canyon School District at (928) 638-2461, Heritage Elementary School at (928) 635-3998, Maine Consolidated School District at (928) 635-2115 or the Williams Unified School District at (928) 635-4473.