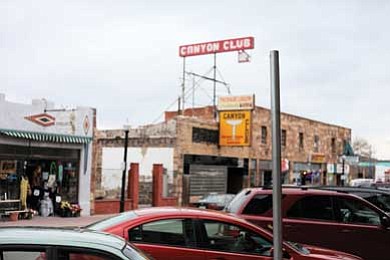 Originally Published: April 19, 2011 2:41 p.m.
WILLIAMS - Like most cities and towns, sign poles line the sidewalks of downtown Williams. But, currently many of those poles lack a sign attached at the top.
The missing signs used to prohibit parking on Route 66 in the downtown business district between the hours of 2 a.m. and 6 a.m. The signs were recently removed when city officials realized there wasn't an ordinance in place authorizing the Williams Police Department to enforce the posted restrictions.
Williams City Council members discussed the lack of a relevant ordinance at their regular meeting April 14.
Williams Mayor John Moore said the idea behind downtown parking restrictions is to allow for snow removal and street sweeping. The current ordinance only covers snow removal efforts.
"Our intention in doing that was so that the street sweeper could get down the street and clean the street well," Moore said, adding that fairly soon after the signs were posted, he and other council members began receiving feedback that while the words "no parking" were prominent, the prohibited hours were not.
He went on to say calls to the WPD from merchants complaining of cars parked in the no parking zones resulted in the department issuing numerous citations.
When a request to view a copy of the ordinance was made, Moore said he discovered there wasn't actually a parking ordinance in place. The signs were then taken down.
"I know it is a tough thing for the merchants but the one that catches the most heat over it is the police chief," Moore said. "We give him an ordinance to follow and he's got to follow it. It's just that simple. He's got an ordinance, he's got to enforce it."
Following Moore's introduction of the subject, Williams resident Buck Williams addressed council members. He said keeping streets clean in the downtown area is an issue and cars parked for multiple days in front of downtown motels hinder street sweeping efforts.
After requesting the no parking signs be enforced and speaking with Chief of Police Herman Nixon, he said he was told the signs could not be enforced.
"Those signs need to be there," Williams said. "Our town needs to attract people and it is not going to attract them if it looks like our streets are still made of dirt. This is not Tombstone. Signs need to be put back up."
Williams then asked council members how long it would take to create an ordinance covering parking in the downtown area.
Nixon said over the course of his six-year tenure as police chief in Williams, the parking issue downtown has never gone away.
"The bottom line is that if we're going to put no parking signs up, there needs to be an ordinance that fits that we can enforce," he said. "It has to be a level playing ground for everybody. So, if the council decides they want to put no parking signs up, we will enforce them."
Nixon added that once an ordinance is in place, enforcement will still remain an issue due to a lack of manpower. He said calls for service are up over 100 percent; violent crimes have risen over 100 percent while his staff is down by 40 percent.
Councilman Don Dent said he was happy to see the signs come down.
"We did decide to put parking signs up and thought we had the right ordinance in place and as soon as John (Moore) came to me and said the ordinance is no good, I said 'Well, that's great because the signs are no good either,'" Dent said.
Dent went on to say, due to the design of the signs, most people driving downtown were likely confused as to just where they should park.
"All you saw was a street full of no parking signs," he said. "And, that is not very hospitable in a town that is a tourist town. So, I think we need to get the ordinance in place and then we need to get a sign designed that doesn't look like we've shut parking down in the whole downtown."
Moore proposed developing a new parking ordinance in conjunction with work currently under way on an updated traffic enforcement ordinance. He added that he hoped the ordinance would put an end to council's discussion of the matter.
"It doesn't make any sense to me to sit here as Mayor, and this is my second term and I think this is the third or fourth time we've addressed this issue since I've been sitting here, so we need to come up with a plan and get it done," he said.
While an ordinance is developed, Moore said taking down the empty poles that line Route 66 would be a good idea.
"We're a tourist town and we look very tourist unfriendly to me," Moore said.
Councilman Miller said removing the poles when a new ordinance will soon be drafted doesn't make sense.
"We've got to think about how those poles are fastened into the concrete and we're going to have to re-drill, put up new poles," he said. "Can we get this ordinance taken care of in the next two or three weeks?"
Moore said if the council drafted a parking ordinance that quickly, the ordinance would likely be flawed.
"If we do move that fast we'll be back in six or eight weeks doing the same thing," Moore said.
City Attorney Kellie Petersen said an ordinance could be drafted explicitly for downtown parking in a matter of days.
"You do have the authority to regulate parking and if you want to tell us what you want from that ordinance, I can draft it and have it back to council next week," she said. "You're going to have to get new signs if the ordinance numbers are the signs."
Interim City Manager Joe Duffy responded saying new signage could be mocked-up and presented at the next scheduled council meeting.
"We could adopt the ordinance as an emergency," he said.
"However council decides, I think we need to take time," Moore said.
Petersen said she will draft an ordinance based on those in place in similar communities located in tourist areas and present the draft for council's consideration.
More like this story