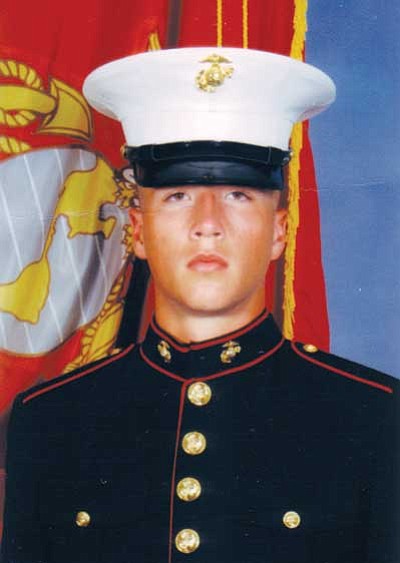 Originally Published: November 24, 2010 11:20 a.m.
WILLIAMS -- The streets of Williams were lined with hundreds of people last Saturday to salute the memory of Lance Cpl. Matthew J. Broehm, who died in Afghanistan earlier this month. He was assigned to the 3rd Battalion, 5th Marine Regiment, 1st Marine Division, I Marine Expeditionary Force, Camp Pendleton, Calif.
The Broehm family led a solemn procession through town, ending at the Williams Elementary-Middle School (WEMS) auditorium for a celebration of life memorial. More than 450 people turned out to pay their respects to the fallen Marine. Many businesses closed early to honor Broehm.
Gregory Slack, a former Marine Corps Captain, organized a Gratitude Rally during the military procession. He passed out flyers and spoke with citizens in the days leading up to the procession to help garner support. He wanted rally participants to line the streets of the procession's route, displaying signs expressing appreciation, which turned out to be a success.
"It was just awesome. We had a wonderful turnout," Slack said. "We gave a fallen hero the small town funeral he deserved."
"The procession through town was everything from the police, firefighters, motorcycle riders, American Legion, former Marines, his family, it goes on," he said. "It was a small town funeral the way it's been for 250 years in this country."
Broehm and a fellow Marine from Colorado died earlier this month doing routine security duty when an Afghan National Army soldier reportedly shot and killed them, and fled. The shooting is still under investigation.
Broehm leaves behind his devoted wife Lianna, his parents, a sister and two brothers, all from the Williams area. According to his family, his desire was that others would know his Lord and Savior, Jesus Christ. His biggest dream was to become a youth pastor and to share Jesus Christ with all youth.
More like this story