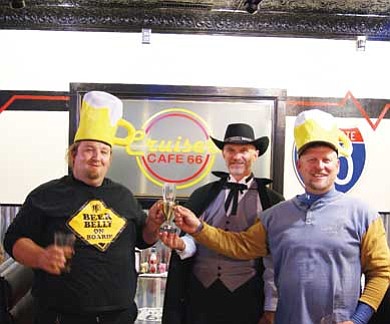 Originally Published: November 2, 2010 3 p.m.
WILLIAMS - Six teams converged on Cruiser's Oct. 30 to win the first ever Wicked Wing Throw Down. The game was wings and the winner would be crowned for concocting the wickedest wings in the area. The Williams Main Street Association and Special Olympics of Arizona sponsored the throw down.
The six teams included Paul Bestenheider of Wild West Junction, Steve Dryer of Dryer Brothers, Cisco Leonet of Los Hermanos, Chuck Vaughn of Cowboy Q, Raul Galaviz and Oscar Lopez of Hot's Tot's "66" and Beverly Whitlock of Camp Civitan. As the last entries were placed on the judges' table, people were lining up to be judges for the event.
For $5 each person who wanted to be a judge received their plate and took a wing from each entry. Thirty-six people showed up for the challenge of choosing the most Wicked Wings in this throw down. After the judging, those who paid their $5 got to go back for seconds and enjoy their favorites.
At 8 p.m. the winner was crowned. Steve Dryer and the Dryer Brothers were the winners of the event. They received a trophy cup and a 50/50 split on the entry fee for a total of $75.
Judges stated that the smoky flavor added to these wings that were the hottest of all the entries. The next event will be a chili cook-off in December at the Canyon Club in Williams.
"We were sure excited about the turn out and with our half of the entry fee along with the judges' fees, we collected $250 that we will put towards the barbecue contest on July 2," said Chuck Vaughn, chairman of the Northern Arizona Barbeque Festival. "We look forward to working with Williams Main Street and Special Olympics of Arizona to put on another great event. We would like to thank the folks at Cruiser's for all the help at the event and also thank all those who competed and those who judged. See you all in December at the Canyon Club."
For further information on upcoming cook offs, visit
www.NAZBBQ.com.
More like this story