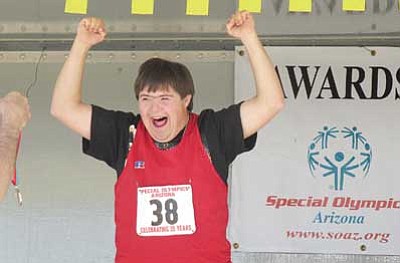 Originally Published: May 11, 2010 2:58 p.m.
WILLIAMS - Athletes from Williams recently competed in the Arizona State Summer Special Olympics bringing home a sense of pride along with medals to commemorate their achievements.
The nine athletes and their coaches, Deniz Chavez-Brock and Patti Jackson, traveled to the games held at Mesa Community College April 29-May 1. Over the course of three days, the athletes competed in traditional summer Olympics style field events.
Thomas Markham started the competition off for the Williams Special Olympics Team on Thursday, winning a gold medal in the standing long jump.
Opening ceremonies were held the next day.
Chavez-Brock said the ceremonies were shorter this year due to an increase in athletes taking part in the Olympics.
"I think it was a little shorter this year because they had 200 more athletes this year," she said.
Earlier in the day on Friday, Bohanon Irving placed fifth in the 50-meter dash. Jill Greedy won a gold medal in the Dead lift competition, lifting 150 pounds.
Along with the competitions of Friday, Chavez-Brock said the team found time for some relaxation as well.
"That day we had some fun," she said. "We took the kids to Build a Bear, which is something that has now become a tradition. They each get to build a bear and if they've already built one they get to pick clothes for the one they already built."
On Saturday, Irving placed third in the shot put. Alicia Wilson took home gold and Santia Rodriguez earned a silver medal in the running long jump.
Also competing in the running long jump, Jacob Alexander, Bryant Wiese and Mark Konkel all placed fourth in different heats.
Chavez-Brock said athletes are grouped according to ability rather than by age.
"They go more by heat times and distances because we had our little guy racing against some of these really tall guys," She said. "The athletes are all in different heats."
The Williams team made a strong showing in the 100-meter-dash. Wilson took home a bronze medal and Rodriguez earned a silver medal, Thomas Markham place sixth, Jacob Alexander earned a bronze medal and Wiese and Konkel both earned silver medals.
Karime Galaviz took home a silver medal in the wheel chair race and placed fourth in the softball throw event.
Chavez-Brock, who has coached the team for close to 14 years, said some on the Williams team are veterans of the summer games.
"Some of them have been doing it since they were 8-years-old," Chavez-Brock said. "They can keep doing it until they're 100-years-old."
Practice for the summer games begins in March. The team participates in the state regional competition held in Prescott in April.
The Special Olympics motto is "Let me win. But if I can not win, let me be brave in the attempt."
"You see that so much in these athletes," Chavez-Brock said.
Jackson seconded that sentiment saying everyone should take the opportunity to attend a Special Olympics event at least once.
"If you're ever somewhere where it is going to happen you should go see it," she said. "You've got people who are so physically handicapped that if it was me, I probably wouldn't be able to get out of bed in the morning. They're out there running a race I probably couldn't run on a good day myself."
Jackson went on to say some races and competitors really draw in the crowd. During one of the weekend's 100-meter races, two competitors at the back of the pack caught Jackson's eye.
"They looked at each other and the one guy grabbed the other one's hand and they held their hands up high and looked at the crowd with these big smiles," Jackson said. "Their whole goal was to help each other over the finish line and I was bawling. It was quite an experience."
According to Special Olympics Arizona's website, the goal of Special Olympics is to provide every person with intellectual disabilities a place of welcome and acceptance and the chance to be their best. Special Olympics Arizona hopes to empower the over 180,000 Arizonans with intellectual disabilities to be healthy, productive, and respected members of society through their year-round sports training, competitions, and support programs.
For more information visit www.specialolympicsarizona.org.