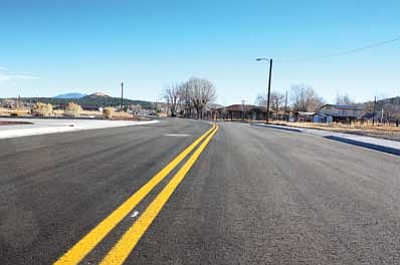 Originally Published: December 14, 2010 2:36 p.m.
WILLIAMS - The Morse Avenue extension project is complete. The throughway, now officially renamed Rodeo Road, opened to vehicles yesterday.
Work began on the roadway that connects Grand Canyon Blvd. with Airport Road Sept. 27.
The project required Quit Claim Deeds for right of way from three parties - the Phillip E./Heriswil Trust, Cureton Ranch and the Café Restaurant Group, LLC.
Public Works Director Glenn Cornwell said sidewalks were added to the project at Williams Mayor John Moore's and the city council's request. He added that those living near the project were supportive.
"The neighbors were more than cooperative in dealing with us," Cornwell said. "They are all ecstatic about the project."
Joe Duffy, Williams interim city manager, said completion of the road will benefit Williams in a variety of ways.
"The completion of the Morse Avenue Project opens up that entire area for economic opportunity," he said. "The road will improve traffic flow in that neighborhood. It is a positive improvement to our community. Our council needs to be commended for their foresight and their leadership in successfully completing this project. L.P.'s Excavating and Glenn Cornwell should be commended for a job well done."
Moore said plans for Morse Avenue go back quite a few years.
"When I became the Mayor, I was really pushing for it," he said. "I think it will alleviate a lot of traffic on Edison where there are families and kids. A residential neighborhood."
The work was completed with the help of Greater Arizona Development Authority (GADA) funds. GADA funds, issued through bonds, can only be used for capitol improvement projects. According to Moore, the city has had the funds available for some time.
"One thing I get asked a lot, 'Why did you all build a new street and not patch the pot holes?' The reason for that is, money in government has to be sometimes used for specific things and we had GADA funds for a capital project but not for any other purpose."
Council member Frank McNelly said completing the project before the end of the year required a number of factors to come together.
"GADA funds, a great contractor in L.P.'s, and the weather really cooperated," he said. "It looks really functional to me. I'm glad it happened. I'm glad the local guys got the work."
More like this story