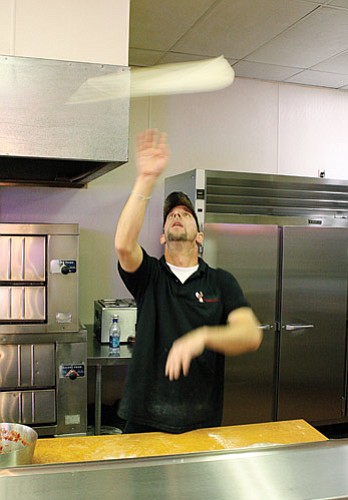 Originally Published: September 29, 2009 2:21 p.m.
WILLIAMS - New York style or Chicago style? That question draws a line in the sand for pizza aficionados the world over. Thin crust or thick? What makes a true pizza? The Pizza Factory's new owner, Derek Wortner, doesn't hesitate when he says New York style is the way to go.
"Chicago style is like a pie, it's not pizza. I want pizza that you can pick up," Wortner said.
Wortner, who has owned two previous Pizza Factory franchises and has been tossing pizza dough in the air for 13 years, moved to Williams earlier this summer with his wife Kendra from the state of Washington. After visiting in April, the two were excited to relocate to Williams and continue making pizzas, something they're both passionate about.
"This area, you can't not like it," Wortner said. "It's a beautiful area. It has everything I wanted, four seasons. You know, the weather is great. I knew the store was for sale for a while. That directed me this way. I came up here in April, took a look at it and liked the area. It kind of fits me"
Wortner says his pizza making philosophy is pretty straightforward.
"Me being a pizza topper and spinning pizzas for 13 years, I think you don't want to under top a pizza and you don't want to over top a pizza," he said. "You over top it, it kills the quality of the product because then you're not tasting any of the toppings because you've got so much on it. If you put too little on it, you might as well be eating Domino's style."
Wortner comes from a family of bakers with both his grandfather and father having owned and operated bakeries. He said preserving aspects of baking from scratch is important, so dough and sauces are made fresh daily at the pizzeria.
According to Wortner, taking an active role in the life of the community is an important part of owning a business in a small town. Wortner has already donated T-shirts, mini footballs and a cookie oven to the Williams High School Cheerleading program to help the cheerleaders raise money.
"You can't have a football team without cheerleaders," Wortner said. "I'm now trying to get involved with the main street of town, being a part of that. I'm excited to do things around here and be involved."
At the end of the day, Wortner said his goals are to serve in the community and serve good pizza.
"We're going to be running a lot more specials and discounts. Especially with the way the times are, people are looking for deals. I mean, who isn't," he said. "If you can put out a good product at a fair price, that's the name of the game."