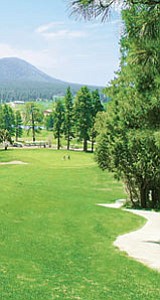 Originally Published: September 8, 2009 1:36 a.m.
WILLIAMS - Practice your golf swing and join Big Brothers Big Sisters of Flagstaff at the Mountain High Golf Tournament sponsored by Savers. The event will be at Elephant Rocks Golf Resort in Williams on Sept. 25. Participants can look forward to an 18-hole scramble, prizes for top finishers and a raffle.
The cost to participate in the event is $100 per person or $400 for a four-person team. Individuals can sponsor a tee on the course for $100 or give $150 for a hole sponsorship. All sponsorships are eligible for a tax-deduction. Golfer sign-in will be at 10:30 a.m. the day of the event and participants can look forward to a catered lunch at 11 a.m. Shotgun start for the tournament is at noon.
A clothing drive is also being held at the tournament called, "Golf Shirts for Kids Sake." Golfers are encouraged to bring an old golf polo, T-shirt or any other unneeded clothing items they would like to donate. All proceeds from the clothing drive and golf tournament will benefit Big Brothers Big Sisters of Flagstaff's mentoring programs in both Flagstaff and Williams.
"I'm looking forward to extending summertime fun in Williams for our golf tournament," said Merk Perelstein, CEO of Big Brothers Big Sisters of Flagstaff. "We hope that our supporters in both Williams and Flagstaff will attend this event and help us raise funds to benefit children in our communities."
Sign up today to join in on the fun and enjoy a day outdoors. Registration closes Sept. 15, so don't delay! Call (928) 774-0649 to register yourself or a team. A registration form can also be found online by visiting the Big Brothers Big Sisters of Flagstaff website at www.bbbsf.com.
Big Brothers Big Sisters of Flagstaff is a non-profit organization dedicated to helping local children succeed by matching them with appropriate adult mentors. BBBSF has been in Flagstaff for over 41 years and is a well-established and well-respected organization. For more information about BBBSF, visit www.bbbsf.com or call (928) 774-0649.
More like this story