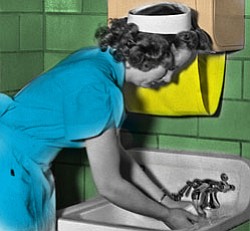 Originally Published: October 6, 2009 2:28 p.m.
Everyone's talking about the H1N1 (swine) flu virus. Health officials tell us that a vaccination will be available locally within a few weeks. People are worried about possible side effects associated with the vaccine. Many are wondering if they should be vaccinated as this pandemic arrives. Some are waiting to see how others react after receiving the vaccine. Employers are bracing themselves for when swine flu visits their workplace. Who will cover for those that fall ill or those who must take care of someone? Can a business remain open with a bare bones staff? We just don't know.
According to the Coconino County Health Department, 58 cases of H1N1 have been confirmed. One death - an adolescent from Coconino County who died in late June - has been associated with the H1N1 virus. There have been 1,480 confirmed cases statewide and 212 deaths have been linked with this illness in Arizona. The Centers for Disease Control and Prevention (CDC) estimates that there have been at least one million cases of pandemic H1N1 in the United States and at least 593 deaths.
Influenza is unpredictable, but because H1N1 is a new virus, many people may have little or no immunity against this disease. As a result, officials predict this illness may be more severe and widespread.
Most people who have become ill with H1N1 have recovered with little or no medical treatment. However, Centers for Disease Control and Prevention anticipates that there will be more cases, more hospitalizations and more deaths associated with this pandemic in the coming days and weeks.
It's time to be proactive. Seasonal flu shots are available now in Williams at the Williams Health Care Center. Vaccines for H1N1 will be available in a few weeks. To make an appointment or for more information, contact WHCC at (928) 635-4441. Seasonal flu shots are also available in Flagstaff. To schedule an appointment, call the CCHD Flu information Line at (928) 679-7300. The Centers for Disease Control (CDC) has created a webpage with information and updates. Visit www.cdc.gov/flu/swine or call 1-800-CDC-INFO.
More like this story