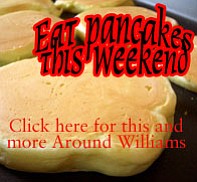 Originally Published: March 23, 2009 3:08 p.m.
Eat pancakes Saturday
The Williams Head Start Preschool is hosting a pancake breakfast fundraiser from 9-11 a.m. Saturday at Head Start, corner of Fourth Street and Sherman Avenue.
The breakfast will be served at tables located on the preschool's playground, the Tots' Park. Everyone is welcome and donations will be accepted.
Head start will use the proceeds to go towards much-needed items such as books, classroom supplies and activities such as field trips for the children.
Belgard celebrates 51 years as a Mason
The Williams-Grand Canyon Masonic Lodge will honor Buford Belgard for being a member for 51 years at 2 p.m. April 4 at the Masonic Temple, 104 N. Third St., at the corner of Third and Route 66.
The celebration will be on the second floor of the Masonic Temple. An electric chair life will be available for those who cannot climb stairs. Sandwiches and refreshments will be served. Everyone is welcome.
To RSVP or for more information, contact Mary Hoover at (928) 635-0239 or the Masonic Lodge at (928) 635-2513.
Little League try-outs to be held Saturday
Little League organizers will hold try-outs Saturday beginning at 10 a.m. at Cureton Park. All players are advised to bring their own glove. Registration for both boys and girls Little League divisions from 10 a.m. to noon as well. Saturday is the last day to register for the upcoming season.
Mix it up Friday
The Williams-Grand Canyon Chamber of Commerce Ambassadors are holding a mixer 5-7 p.m. Friday at Pancho McGillicuddy's, 141 W. Railroad Ave. The 50/50 drawing will benefit the Williams Senior Center's Meals on Weeks March for Meals Walk-A-Thon.
Donations needed for Parks' garden
A community garden is planned in Parks at the corner of Route 66 and Spring Valley Road. Martie Sparks and the Parks in the Pines 4-H Club will care for the garden.
The group is in need of donations such as mulch, manure, five-gallon buckers, PVC pipe or any gardening-related items.
For more information, call Sparks at (928) 635-4079.
Train club forming
A group of railroad enthusiasts invites other enthusiasts, hobbyists and railroad professionals to a meeting to form a train club. The group will meet at 7:30 p.m. April 1 at Pine Country Restaurant, 107 N. Grand Canyon Blvd. For more information, call Jim Matson at (928) 220-0883.
Drama Club presents 'Beauty is a Beast' Friday and Saturday
Members of the Williams High School Drama Club present their first performance Friday and Saturday in the Williams Elementary-Middle School auditorium. The play, titled, "Beauty is a Beast" will begin at 6:30 p.m. Tickets cost $4.50 and will be available at the door. The presentation is sponsored by Ms. Wilson of Williams High School, local businesses and Inspirations Inc., with support from Williams High School and the Williams Alliance.
Join the fight against cancer
Find out more about the 2009 Williams Relay for Life noon-1 p.m. today at the Days Inn conference room, 2488 W. Route 66.
The Relay raises money in the fight against cancer. All monies remain in northern Arizona. During the Relay, those that have lost their battle with cancer are honored while those who have survived celebrate. Subway sandwiches and beverages will be provided.
For more information, contact Sara Eby at (928) 526-2896.
Concealed carry weapon class offered
The Juniper Woods Gun Club (JWGC) is pleased to sponsor a CCW (Concealed Carry Weapon) Class on April 25 from 8 a.m.-5 p.m.
The class will be held at the Ash Fork Community Center, 526 W. Lewis Ave., Ash Fork, for the classroom phase, and at the Juniper Woods Gun Club Range for the shooting qualification. The cost of the class is $95 and the Department Public of Safety application fee is $60.
The class is limited to 20 participants. The final date to sign up is April 20. For more information or to sign up, call (928) 308-3488.
Masterswimmers open to all
Feeling your years? Slowing down? Putting on a little pudge around the middle? So are the Williams Masterswimmers.
The Masterswimmers invite the rest of the old fuddy-duddy's at the Williams Aquatic Center on Monday and Friday mornings at 7 a.m. The group gathers for fun and exercise, mostly, but are also currently training for an open water swim in June. They may even muster enough strength and courage to compete with other masters' swimming clubs someday. Williams Masterswimmers is open to anyone, and there is no charge to participate aside from the entry fee to the pool itself.
For more information, contact Lisa Williams at 637-9867, Debbie Dugar at 600-7694 or call the Williams Aquatic Center at 635-3005.
Fire Awareness Fair April 4
A Wildland Fire Awareness Fair featuring fun for the whole family will be held 10 a.m.-2 p.m. April 4 at the Williams-Forest Service Visitor Center parking lot and the Williams Recreation Center.
A 25-foot Smokey Balloon will decorate the area. Learn about wildland fire prevention through Fire Wise presentations. The Community Emergency Response Team will be on hand as well as Smokey the Bear.
For more information, call Sami Schinnell at (928) 635-5637.
Rabies clinic set for April 4
The 24th Annual Williams Animal Action Group's Rabies Vaccination Clinic will be held noon-3 p.m. April 4 at the rodeo barn, corner of Airport and Rodeo roads.
Rabies vaccinations for dogs and cats will be offered. Rabies vaccinations will cost $6 each. A feline leukemia combo is $10. A distemper/parvo combo and Kennel cough will cost $5 each.
For more information, contact WAAG President Kali Kaliche at (928) 635-2595.
Will it melt?
And when? The Williams Lions Club is sponsoring a contest for the community to guess when the mountain of snow will melt. Located next to the Williams Justice Center, the northeast corner of the snow pile will be marked with a flag and yellow tape.
Guess the date it will be gone and split 50 percent of the pot. A $1 donation per guess is asked to enter. Sign up at Hometown Video by April 1. Any sign of foul play will result in one name being drawn from all entrants for 50 percent of the pot.
Seniors March for Meals
Members of the Williams Senior Center invite all to join them for a March for Meals Walk-a-thon Saturday. The walk begins at 10:30 a.m. at the Williams Senior Center, 850 W. Grant Ave.
Walkers, sponsors and donations are needed. All proceeds benefit the Williams Senior Nutrition Program. Proceeds will be matched by MOWAA, Harrahs Entertainment and the Feinstein Foundation. Donations are tax deductible. Please make checks payable to Community Services.
For more information or to sign up, contact Max Bishop at (928) 679-7485.
Free appliance removal
The city of Williams and Williams Clean and Beautiful will be hosting a large appliance removal period of two weeks, April 1-15. If you would like an appliance picked up at no cost to you, it is imperative to contact the city office at (928) 635-4451 to establish a work order.
To provide the city easy access for pick up, appliances need to be placed in front of your residence, as close to the curb as possible, but not in the street. If you prefer, you can transport your appliance to the transfer station for disposal.
After April 15, residents can call the city office to make arrangements to have appliances removed for a nominal fee. If you are handicapped, disabled or need financial assistance, Clean and Beautiful might be able to help.
Support available for cancer survivors
The Williams Area Cancer Survivors' Group offers support for cancer survivors, family members and caregivers the second Thursday of each month. The next meeting begins at 6 p.m. April 9 at the Williams Health Care Center, 301. S. Seventh St.
For more information, contact the FMC Cancer Center's social worker at (928) 773-2327.
Free tax preparation offered
Appointments are being taken for free tax preparation in Williams.
To qualify, income for the year must not exceed $42,000 and must not be complicated. This is not for businesses. The service will be offered April 8 at the Williams Elementary-Middle School library.
This program is sponsored by the WUSD Family Resource Center in collaboration with Coconino County Community Services.
For appointments, call Sandy Roe at (928) 635-4428, ext. 303.
Preventive health event arrives April 2
First Baptist Church, 629 W. Grant Ave., is hosting the services of Life Line Screening to help residents identify their risk of stroke, vascular disease and osteoporosis before the catastrophic effects of these conditions can occur. The event is open to all and will be held on April 2.
The conditions for which Life Line Screening screens are considered "silent killers" because they often strike without warning. Symptoms are rarely present and if they are, they are generally subtle, almost unnoticeable. A screening could prevent death or disability.
To register for a screening, contact Life Line Screening at www.lifelinescreening.com
or call 1-888-653-6441 to make an appointment.
Habitat teams up with Kiwanis
The Williams Habitat for Humanity and Kiwanis are teaming up for a great evening on April 3. The Kiwanis Scholarship Spaghetti Dinner will be held in the rodeo barn, located at the corner of Rodeo and Airport roads, from 4-6 p.m. before the Grand Opry performance 6:30-9 p.m. Mark your calendar to remember these events.
You will enjoy the delicious meal, country/western music by local musicians, dancing and the famous cakewalk. Visitors are welcome to come early to visit our unique community known as "The Gateway to the Grand Canyon®," Williams is the last town bypassed on Route 66.
For more details, call (928) 635-0386.
New number for the senior center
The Williams Senior Center now has a new phone number. The phone number is 679-7480. This is still a local call and no charges will be incurred by calling this number.
GED/ABE prep classes offered
GED/ABE prep classes are held at Coconino Community College, 636 S. Seventh St. GED/ABE class hours are 6-7:30 p.m. Wednesday and Thursday and 3:30-5:30 p.m. Monday and Tuesday. ESL classes are offered 3:30-5:30 p.m. and 6-8:30 p.m. Monday and Tuesday.
Got stress?
Get rid of it. Stretch and relax with Ginny Dean. Morning and evening classes are offered. Call (928) 814-3419 for more information.
Cans for cancer
The Methodist Church 'Relay for Life' team is collecting aluminum cans to raise money for the fight against cancer. If you wish to get rid of them for a good cause, contact Bud Parenteau at (928) 635-4393 or Bruce Baker at (928) 635-2481.
TOPS offered Wednesday
TOPS - Take Off Pounds Sensibly - is a non-profit organization designed as a support group for those who wish to lose weight. TOPS meets at 10 a.m. each Wednesday at St.. John's Episcopal Lutheran Church.
For more information, contact Robbie Geouge at (928) 635-9387 or 600-0523.
Join Williams Group Fitness
Aerobics instructor Georgeanna Koenig offers aerobics at the Williams Health Care Center, 301 S. Seventh St.
She teaches light challenge classes each week from 4:30 to 5:15 p.m. on Monday, Tuesday and Wednesday, and energizer classes from 5:30 to 6:30 p.m. on Monday, Tuesday and Wednesday of each week as well.
There is no charge for the classes, but donations are welcome.
Box tops needed
Box Tops for Education, a program sponsored by General Mills, remains under way locally. Collect box tops from General Mills products and Campbell's Soup labels and help purchase school supplies for classrooms at the Williams Elementary-Middle School.
On General Mills products, the words "Box Tops for Education" must appear or the labels are worth nothing. On Campbell's Soup labels, the UPC code must be present.
Box tops and soup labels can be left for Cookie Dent at Farm Bureau Insurance, 128 W. Grant Ave., Ste. A.
Women on the Move meet weekly
Women on the Move is open to all women dedicated to recovery and actively working any 12-Step Program. There are no dues or fees as the group is self-supporting through their own contributions. The group meets on Tuesday evenings from 6:30-7:30 p.m. in Walker Hall, St. John's Episcopal Lutheran Church, corner of Second and Grant in Williams. This is a non-smoking meeting. For more information, call (928) 635-4449 or (928) 607-0667.
Find a job tomorrow
The Arizona Workforce Connection/Job Service hosts a weekly One-Stop employment assistance service Thursdays from 1-4 p.m. at the Williams Public Library. Resume workshops are also offered. The services are free and available to all.
More like this story