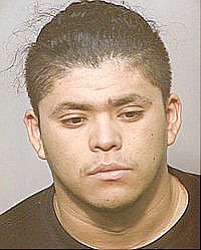 Originally Published: March 17, 2009 2:42 p.m.
On March 13, officers with the Williams Police Department arrested 20-year-old Juan M. Puente-Hernandez. He was arrested for a number of charges, which included aggravated identity theft, first degree burglary, two counts of third degree burglary and two counts of theft.
The arrest followed a several month long investigation initated after numerous businesses in Williams were burglarized. Several members of the community and an anonymous caller to the Flagstaff-based Silent Witness program provided information beneficial to the investigation, Williams police officials said.
On March 13, Puente was contacted in his vehicle by a Williams Police officer near one of the businesses previously burglarized. Evidence was found in Puente's vehicle and he was arrested at the scene. A search warrant was subsequently served at Puente's residence and additional evidence relating to the crimes was seized.
More like this story