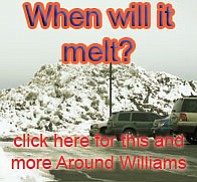 Originally Published: March 2, 2009 1:43 p.m.
Will it melt?
And when? The Williams Lions Club is sponsoring a contest for the community to guess when the mountain of snow will melt. Located next to the Williams Justice Center, the northeast corner of the snow pile will be marked with a flag and yellow tape.
Guess the date it will be gone and split 50 percent of the pot. A $1 donation per guess is asked to enter. Sign up at Hometown Video by April 1. Any sign of foul play will result in one name being drawn from all entrants for 50 percent of the pot.
Wii offered at Legion
The American Legion Cordova Post No. 13 is offering Wii bowling, baseball, tennis and more at 5 p.m. Monday, Tuesday and Wednesday. Dominoes will also be offered Tuesday. The Legion is located at 425 W. Grant Ave.
Salvation Army has a new number
The Salvation Army can now be reached at (928) 225-6435. The Salvation Army will be unavailable through Tuesday. Service will return March 11.
Swim free Saturday
A free swim will be offered 1-4 p.m. Saturday at the Williams Aquatic Center, 315 W. Railroad Ave. The swim - sponsored by the Williams Rotary Club - is offered to all.
Free appliance removal
The city of Williams and Williams Clean and Beautiful will be hosting a large appliance removal period of two weeks, April 1-15. If you would like an appliance picked up at no cost to you, it is imperative to contact the city office at (928) 635-4451 to establish a work order.
To provide the city easy access for pick up, appliances need to be placed in front of your residence, as close to the curb as possible, but not in the street. If you prefer, you can transport your appliance to the transfer station for disposal.
After April 15, residents can call the city office to make arrangements to have appliances removed for a nominal fee. If you are handicapped, disabled or need financial assistance, Clean and Beautiful might be able to help.
Seniors March for Meals
Members of the Williams Senior Center invite all to join them for a March for Meals Walk-a-thon March 28. The walk begins at 10:30 a.m. at the Williams Senior Center, 850 W. Grant Ave.
Walkers, sponsors and donations are needed. All proceeds benefit the Williams Senior Nutrition Program. Proceeds will be matched by MOWAA, Harrahs Entertainment and the Feinstein Foundation. Donations are tax deductible. Please make checks payable to Community Services.
For more information or to sign up, contact Max Bishop at (928) 679-7485.
Support available for cancer survivors
The Williams Area Cancer Survivors' Group offers support for cancer survivors, family members and caregivers the second Thursday of each month. The next meeting begins at 6 p.m. March 12 at the Williams Health Care Center, 301. S. Seventh St.
For more information, contact the FMC Cancer Center's social worker at (928) 773-2327.
VITA seeks tax preparer
The Volunteer Income Tax Assistance (VITA) is looking for someone interested
in becoming a volunteer (tax preparer) and helping at our tax sites. The Williams Elementary-Middle School will have two evenings during which free tax preparation for the low income community will be available.
Those evenings are March 11 and April 8.
These will be held in the WEMS library and we will be taking appointments from 4-7 p.m. for each of those dates.
If you would like to become a tax preparer or need to set up an appointment contact Sandy Roe at (928) 635)-4428, ext. 303.
Free tax preparation offered
Appointments are being taken for free tax preparation in Williams.
To qualify, income for the year must not exceed $42,000 and must not be complicated. This is not for businesses. The dates available are 4-7 p.m. March 11 and April 8 at the Williams Elementary-Middle School library.
This program is sponsored by the WUSD Family Resource Center in collaboration with Coconino County Community Services.
For appointments, call Sandy Roe at (928) 635-4428, ext. 303.
Habitat teams up with Kiwanis
The Williams Habitat for Humanity and Kiwanis are teaming up for a great evening on April 3. The Kiwanis Scholarship Spaghetti Dinner will be held in the rodeo barn, located at the corner of Rodeo and Airport roads, from 4-6 p.m. before the Grand Opry performance 6:30-9 p.m. Mark your calendar to remember these events.
You will enjoy the delicious meal, country/western music by local musicians, dancing and the famous cakewalk. Come for one or both. Visitors are welcome to come early to visit our unique community known as "The Gateway to the Grand Canyon®," Williams is the last town bypassed on Route 66.
For more details, call (928) 635-0386.
City offers new programs
The city of Williams is proud to announce new programs being offered to area senior citizens through the Recreation Department, including the Williams Aquatic Center and Georgeanna's aerobics.
The newly named Williams Group Fitness (Georgeanna's Aerobics) has been made possible by the cooperative efforts of Coconino County Board of Supervisors, the Williams Health Care Clinic, the city of Williams and Georgeanna Koenig. The classes are Monday, Tuesday and Wednesdays. The lower impact program is from 4:30-5:15 p.m. and the higher impact program is from 5:30-6:30 p.m. at the Williams Health Care Center. For more information, contact Georgeanna at (928) 635-2141.
The Williams Master Swimmers are a recently formed group of individuals over age 50 that have come together to enjoy the fun of swimming. This group is open to all individuals over 50 who would like to improve their swimming skills, reap the benefits swimming affords their health or just enjoy the companionship of fellow water enthusiasts. Meetings are currently being held on Monday and Friday at 7 a.m. at the Williams Aquatic Center. For more information, contact Lisa at (928) 635-3005.
Another exciting addition for our senior citizens is the Senior Gutterhuggers (Wii Bowling League). This is currently being held at the Recreation Center on Tuesdays from 1-3 p.m. This is the league's third week and the participant numbers are growing each week. The youth of Williams are currently fundraising to be able to present the Williams Senior Center with their Christmas Wish - their own Wii Sport unit to be used to bowl and enjoy the other sports at their facility. For more information, contact Max Bishop at (928)679-7480.
New number for the senior center
The Williams Senior Center now has a new phone number. The phone number is 679-7480. This is still a local call and no charges will be incurred by calling this number.
Jazzercise classes offered locally
Four jazzercise classes are held weekly in Williams. The workout program, which offers a fusion of jazz dance, resistance training, pilates, yoga and cardio box movements, has positive effects, according to instructor Sheri Kahn.
For information about jazzercise in Williams, contact Kahn at (928) 635-9109.
Williams Masters Aquatic Guild forms
Adult swimmers, approaching 50-years-old or older, who desire to improve their swimming skills and those who may even desire to compete at the U.S. Masters Olympic level, are encouraged to join the newly formed Williams Masters Aquatic Guild. The group meets Monday and Friday at 7 a.m. at the Williams Aquatic Center. The guild is also open to adult beginners, according to organizers.
For more information on the guild, contact Jeff Weibel at (951) 941-9170 or Debbie Dugar at (928) 635-2148.
GED prep classes offered
GED prep classes will be held at Coconino Community College, 636 S. Seventh St. GED class hours are 6-7:30 p.m. Wednesday and Thursday. There will be no ESL classes until further notice.
Get fit
Stretch and relax! Yoga classes meet three times per week. Call Ginny Dean at (928) 814-3419 for more information.
TOPS offered Wednesday
TOPS - Take Off Pounds Sensibly - is a non-profit organization designed as a support group for those who wish to lose weight. TOPS meets at 10 a.m. each Wednesday at St.. John's Episcopal Lutheran Church.
For more information, contact Robbie Geouge at (928) 635-9387 or 600-0523.
Cans for cancer
The Methodist Church 'Relay for Life' team is collecting aluminum cans to raise money for the fight against cancer.
If you wish to get rid of them for a good cause, contact Bud Parenteau at (928) 635-4393 or Bruce Baker at (928) 635-2481.
More like this story