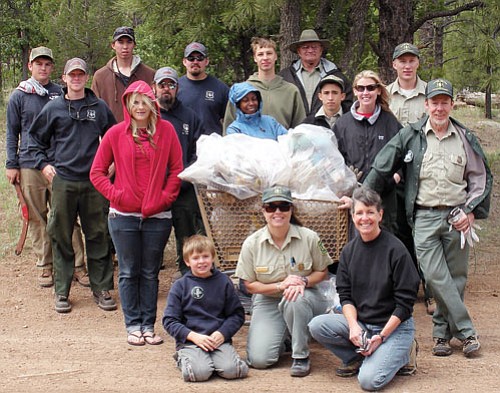 Originally Published: June 23, 2009 12:41 p.m.
WILLIAMS - The Kaibab National Forest would like to thank all those who participated in the June 6 National Trails Day event in Williams at Buckskinner Park. About 25 participants collected 12 bags of trash near the Buckskinner Trailhead and even found an old shopping cart in the woods.
Besides a trash collection competition - which included prizes for most trash collected, most unique item of trash, and biggest piece of trash - participants also assisted in improving the trailhead by installing directional signs. Fun events included a coloring contest and a competition using an atlatl, which is an ancient hunting tool.
The National Trails Day event was sponsored by the Kaibab National Forest in cooperation with the city of Williams, the Williams-Grand Canyon Chamber of Commerce, and Williams Clean and Beautiful.
"We had a great time and got a lot of good work done," said Christa Roughan, recreation staff officer for the Williams and Tusayan ranger districts and the coordinator for the Williams event. "We plan to host a National Trails Day celebration every year, so we hope to have even more participants next year."
National Trails Day is the only nationwide celebration of trails. The goal is to introduce people to the many joys and benefits of trails. Additional information on National Trails Day is available at the American Hiking Society Web site at www.americanhiking.org.
More like this story