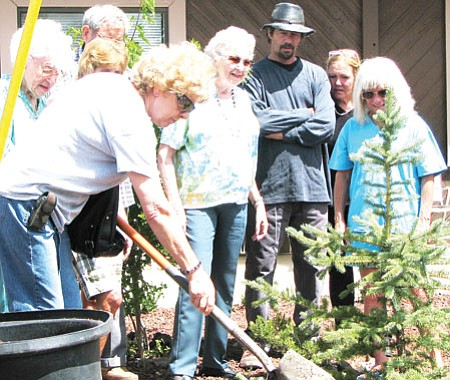 Originally Published: July 21, 2009 12:06 a.m.
WILLIAMS - An "original cowboy," born in the wrong era, was honored by the Williams Senior Center July 20.
Nickolas A. Loprieato, who delivered meals to senior shut-ins, passed away June 29 at the age of 66. Senior Center staff and friends decided to pay tribute to Loprieato by planting a blue spruce in the center's small garden.
Born in Pittshurgh, Loprieato was the oldest of five children; and though his roots were in the east, his heart was always set on the west.
"He loved the west, it was everything he wanted," his widow, Bruni, said. "That's why I said he's an original cowboy born in the wrong era."
"He will be sorely missed," said Senior Center President Penny Joy. "He was a wonderful man."
Loprieato loved to talk about history; he and her husband, John, would talk about history all the time, Joy said. Loprieato was knowledgeable on a wide range of subjects, and particularly western history. He loved the classic westerns and could recite movies and actors at the drop of a 10-gallon hat.
Loprieato was a part of the Senior Center, a part of the family, said center Director Max Bishop.
"I'm just sad that those that are homebound didn't get to be here," Bishop said. "Those are the ones that saw him every day."
Loprieato spent 33 years in the Air Force; he and Bruni loved to travel. They moved to Williams after he retired, Bruni said. They were married almost 19 years.
"We met in California. I was a hairdresser and I did his hair. He asked me out," Bruni recalled.
Loprieato never had a bad word to say about anyone, his wife said.
"When you were around him, you just had to smile. He was that kind of a person," Joy said. "He was so jovial. You never heard a bad word out of him about anything. He was such a fun guy."
Whether people or animals, Loprieato had a soft spot for them all.
"We have six dogs. He could never turn his back on an animal. Whenever I would bring one home, he'd go 'No, no, not another one.' And I'd say 'oh, please,' and he'd just say "well, I suppose we could give it a good home,'" Bruni said.
He was bighearted and generous, Bruni said.
The tree was planted July 20 and a plaque will soon follow, Joy said. It's the center's way of saying thanks to him, she added.
And Loprieato would have appreciated it.
"He's probably looking down and saying 'Boy, I got it great,'" Bruni said.
More like this story