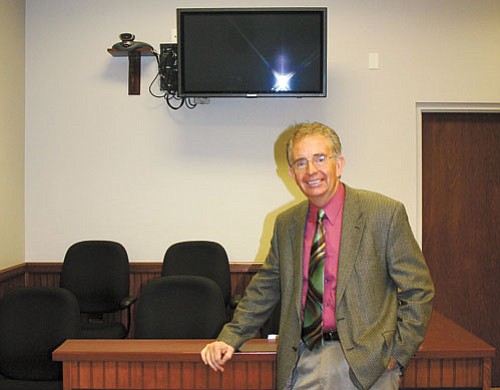 Originally Published: January 13, 2009 11:31 a.m.
Is it a raise or is it a cut in pay? That was the question posed to Williams City Council members during their regularly scheduled meeting Jan. 11. With a 4-2 vote, council members opted to call it a raise. The question at hand involved whether or not Williams Judge Bill Sutton Jr. should be allowed to keep a $400 gas and time allowance for trips to court in Flagstaff or if those funds should be cut from his earnings, due to the fact that those trips are no longer necessary - thanks to a new video arraignment system at the Williams Justice Court.
Council members Don Dent, Frank McNelly, Kevin Young and Bill Miller said the $400 constituted a raise during the Jan. 11 regular meeting, while Andrew Hamby and James Wurgler argued that the loss of the $400 would constitute a cut in salary, as Sutton has been receiving the additional funds since last year. Besides pay from the city of Williams, Sutton is also employed separately with Coconino County.
"I realize that the judge doesn't look at that as a raise or a change in pay, but we were reimbursing him for expenses going back and forth to Flagstaff, which was agreed that's what it was for and now
that that's gone he's asked that this be included in his salary, which as far as I'm concerned is a raise, and not another city employee has gotten a raise this year," said Councilmember Don Dent. "I don't think we're doing right by the rest of the city employees to include that extra money in his salary. The reimbursement was for him having to go to Flagstaff on his own time in his own vehicle."
He suggested that additional funds be considered during budget meetings, but no sooner.
"I'd like to make a point that nobody has had a cut in pay. From my perspective, this amounts to a cut in pay," said Councilmember James Wurgler. "When you're looking at professional services, you do the work, you get paid. Technically speaking, there were some increased costs in terms of driving, but he's doing the work. He's doing the work that does not require us to have somebody in Flagstaff do the work. I interpret this as a cut in pay."
"The reason the circumstances have changed is because of his initiative and his staff's initiative. They pursued and obtained a grant to get equipment, so they didn't have to do that anymore. Yes. He does not have to go there anymore. He still has to do the actual work, but the flip side of it is, in addition to saving their courts some costs, he saved the (Williams) Police Department a fairly substantial amount of money. To then take that away is essentially punishing that initiative. If he'd have done nothing different, if he'd just not applied for the grant, not done anything like that, and was still going to Flagstaff, he'd still be getting the money and we wouldn't be having this conversation," said Councilmember Andrew Hamby.
Sutton, who was on hand for Jan. 11 council meeting to swear in new Williams City Clerk Susan Kerley, reminded council members that he was under contract with the city of Williams and not an employee who receives benefits. He said the court's new video conferencing system came as a result of a meeting between the Sutton and Williams Police Chief Herman Nixon.
"The chief had some concerns about the security of transporting prisoners from the jail back to Williams and for 17 years that's the way we've been doing it. The police department has to go to Flagstaff, un-book them, come back, see them in court, take them back to Flagstaff and re-book them and come back. It's an extremely expensive thing," Sutton said, adding that he then took it upon himself to make the trips to Flagstaff to see the prisoners there.
"I was given the reimbursement of the $400 a month to make those trips," Sutton said, adding that staff members at the court, as well as Chief Nixon, helped get the ball rolling when it came to acquiring the grant for the video arraignment system for the Williams Court.
"The trips to Flagstaff are now gone," Sutton added. "But maybe we can get the Williams contract at least a little more compatible with the other magistrates in the state. I think the higher amount is more than well deserved and keep in mind that we're saving the city tens of thousands of dollars on transporting prisoners and we've done that with our own initiative."
When it comes to his contract, Sutton takes home $900 a month after taxes for his city-related services.
"It's a heck of a lot of headache for that. If you put this off until next year or the year after, it's going to be really hard to be able to justify it then and I'd sure hate to see a person, after I've done it for 18 years, come on board and get a lot more money," Sutton said.
More like this story