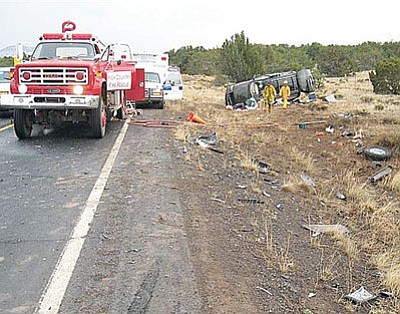 Originally Published: April 7, 2009 1:28 p.m.
WILLIAMS - Firefighters from High Country Fire-Rescue extricated a critically injured driver from the wreckage of a three-car collision on Highway 64 at milepost 198. The accident occurred at approximately 4:30 p.m. April 3 during a snowstorm. Firefighters were on scene within eight minutes and remained at the accident for one and one-half hours, according to a press release from High Country Fire-Rescue.
The collision involved three cars, two of which met head-on. This caused significant damage and resulted in a driver being pinned in the wreckage. Responding firefighters used hydraulic rescue tools (jaws of life) to extricate the victim within 30 minutes.
Initial reports indicated multiple patients and a heavy rescue situation. The first arriving firefighters determined that among the three cars, there were a total of seven passengers. Two passengers from the same vehicle were transported by Life Line Ambulance. The remaining passengers did not require medical care, according to High Country Fire-Rescue.
High Country Fire-Rescue responded with nine firefighters, two fire engines and a rescue truck. Firefighters stabilized the vehicle and extricated the patient. The Department of Public Safety, Life Line Ambulance and the Arizona Department of Transportation also responded.