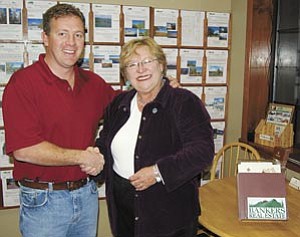 Originally Published: March 26, 2008 9:56 a.m.
Despite a sluggish economy and gloomy real estate prospects, leading to high foreclosure rates across the nation, things are doing well for Bankers Real Estate in Williams. With a 3 percent rise in national home sales last month, the local real estate market may be on the way back up, said Bankers Real Estate broker/owner John Rushton, who is opening a second office in the Parks area. Called Bankers Real Estate of Parks, the office is located in the Parks Feed and Mercantile store beside the Mustang gas station at the Parks off-ramp.
Rushton identified the 3 percent increase in housing sales as a sign that the real estate slump may be turning around and said he is closing five to six escrows a month.
"With the way the economy is going, with all of these offices that are closing down, they're looking to basically close their doors, because a lot of these real estate offices came in when times were really good," Rushton said. "Pine View Realty, which was over in Parks, came and offered for us to buy out their business, so we decided to expand out over into Parks. There's all this hype about the real estate market being down. We've definitely felt the impact of the real estate market, but I don't think we've felt the impact as much as these other offices have. We're still closing escrows."
Parks resident and Bankers employee Carol Bultema will manage the new office, with Kathy Henkel as the office's designated broker, Rushton said.
"Parks is an area that didn't have any real estate brokerages four years ago," Rushton said, adding that two subsequently opened in the area since then.
"They've both done pretty well. With all the little communities and stuff over there I think it's a good asset to have an office and get some more exposure," he said. "It will really give us a good, broad name base to be able to expand our name over into Parks and also include Williams."
Rushton said that Bankers Real Estate's prior broker/owner, Williams resident Rich Gorney, once considered opening an office in Parks, as well, but never did.
"Rich wanted to go over to Parks when he owned the business, but he couldn't find anybody that wanted to dedicate their time over in Parks. Now that I've got Carol Bultema, she lives over in Parks, so she can be the Parks expert over there to a certain degree," Rushton said. "That way she doesn't have to commute and we get a good office over there. Parks has always been a good business for us. There are a lot of nice homes over there. It's a great area. It's different than Williams."
The chance to help open a new office is an exciting prospect for Bultema, who said he is looking forward to the challenge.
"I live in Parks and I've really enjoyed being here working at Bankers," Bultema said. "It looked like, (since) we had a few listings out there, why not spread on out? It's nice for me because I'll be close to home, but I really didn't want to leave the Bankers family. It's great that we're able to work this out so that we expand Bankers."
Bankers Real Estate of Parks can be reached at (928) 635-4670.
More like this story