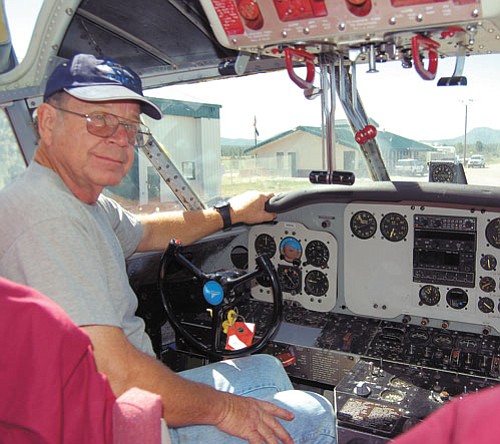 Originally Published: June 23, 2008 10:02 a.m.
Word may soon begin to spread about Hans Lauridsen and his large collection of airplanes. The Phoenix-based plane collector recently landed his large 1953 Grumman Albatross at the H.A. Clark Memorial Airfield near Williams - a plane that Lauridsen has been working hard to restore. The amphibian Navy plane, complete with double pontoons on either side of the cockpit, once carried President Lyndon B. Johnson from Puerto Rico to the United States, according to Lauridsen, after Air Force One suffered technical difficulties and was unable to transport the president.
The plane, along with a handful of other aviation marvels, belongs to Lauridsen. They're currently located in a number of different homes throughout Arizona, though Lauridsen hopes to change that situation. He's been working with Williams officials, including airport supervisor Bill Conley, on plans to erect a 60,000 square foot airport museum at the airfield. Lauridsen hopes to showcase at least 17 of his aircraft, all of which are flyable. The planes range in age from World War II through the Korean War, according to Conley, and include a Fairchild C119-6 among other planes. Lauridsen's C119-6 was used in the film "Flight of the Phoenix."
Conley said the planned aviation museum would be similar to the Valle museum and would include the museum, a maintenance shop and gift shop. The completed establishment is currently proposed to consist of three buildings, though Conley said the price tag for the first building alone is estimated at $800,000.
"It will be on city land at the airport," Conley said. "We lease it to them like we do other people."
Conley said he has been working on the project for over two years.
"It's a win, win situation, especially for the city," Conley said, adding that a presentation will be
made to members of the Williams City Council in regards to the museum within the next few weeks.
Other planes in Lauridsen's collection include one of the last remaining operable B-25 Bombers, notable for their use in World War II I dropping bombs on Japan. Conley estimated that there were roughly 20 to 25 flyable bombers in existence. Lauridsen's bomber was even featured as the cover image for the "WWII Medium Bombers" fall 2006 issue.
"Everything that he owns is flyable," Conley said.
Another plane in his collection was also active in World War II and is credited with sinking a Japanese Destroyer, according to Lauridsen.
"Each of these planes has a little bit of history," Lauridsen said.
This isn't the first time Lauridsen has attempted to launch a museum to house his planes. He initially worked to create a site in Glendale. When those plans eventually fell through, he turned his sites on the cool pines of northern Arizona.
"We've got about 17 airplanes. One of the things we're hoping is that people who ride the train, if they had a little lag time, they'll come up here," Lauridsen said. "People love to see those big, old round engines fire up. What we need is one hell of a big building and these airplanes will be inside."
Compared to working with city officials in the Phoenix area, Lauridsen said he has enjoyed working with city staff in Williams on the proposed project.
"Bill has bent over backwards," Lauridsen said. "It's like night and day from the valley."
More like this story