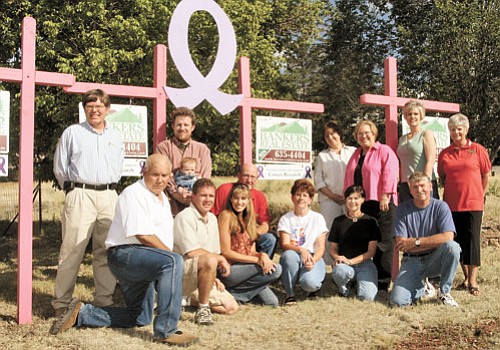 Originally Published: July 1, 2008 2:04 p.m.
Residents in and around Williams may soon begin to see a change in the signposts marking various real estate locations that are for sale through Bankers Real Estate. Pink posts are now replacing the white ones throughout the community. According to Bankers owner John Rushton, the posts are being painted breast cancer pink. Houses sporting the pink posts will offer a portion of their sale to cancer research, Rushton said.
"We wanted to direct it to breast cancer research," he said. "Because that's what started my initial thought process down this road, (but) there's not a breast cancer chapter that's located right here locally. We decided, amongst the Bankers Real Estate group, we brainstormed; we decided to go the Relay for Life direction. We have the purple ribbons that signify the Relay for Life."
Rushton said he plans to have at least 100 pink posts up by this week.
He said Bankers would guarantee a donation of $10,000 over the next year to the Relay organization and cancer research.
Rushton, whose sister was recently diagnosed with breast cancer, said her plight urged him to want to do more for cancer research, though Bankers employees were already developing plans of their own for a similar goal.
"I don't want to take the full credit of it going toward my sister, because I really brainstormed it with a bunch of my agents," Rushton said. "My sister came down with breast cancer about a year ago and she hasn't been a real strong charity-type person, but when she came up with breast cancer she utilized a lot of these charities and then she started doing fundraisers for these charities and trying to pay it back. That kind of got me thinking about stuff. I think it will really set our bar a little higher. It really touched my heart. She's doing fine now. She's at the very end of her reconstructive surgery."
Rushton said he hopes the contribution will help make a difference.
"I had somebody tell me that they don't have confidence in humanity that it is going to make a difference," Rushton said. "They said, 'I don't think that they are going to come and buy from Bankers Real Estate because you give to cancer and I don't think they're going to list with Bankers Real Estate because you give to cancer research.' That made me mad. I was kind of contemplating whether I should or shouldn't do it and when they said that I thought, 'I'm going to show them that it will make a difference.' That's what really made me make the decision. Hopefully we can make a difference. For the most part we really wanted to pay it forward and get
a good organization give money to and I think it will set our bar, with Bankers Real Estate, just a little higher."
Williams Relay for Life committee member Carol DeLander said the group was thankful for the efforts of Bankers Real Estate.
"The Williams Relay for Life committee is very grateful for John's generous support through Bankers Real Estate," she said. "We know this project will be successful and will greatly benefit cancer victims everywhere."
The 10th annual American Cancer Society Relay for Life will be held July 12-13 at the Cureton Park softball field. The relay is expected to get under July 12 beginning at 6 p.m. Events for the Relay will include a flea market, a survivor's celebration and a mobile onsite mammography.
More like this story