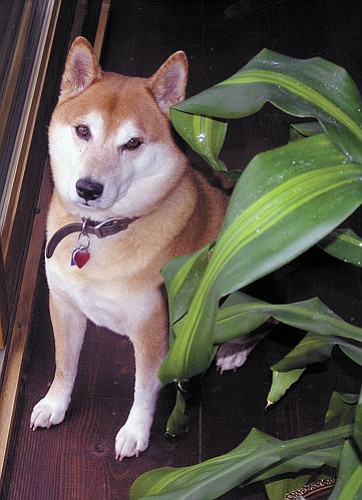 Originally Published: December 16, 2008 12:55 p.m.
When Williams resident Sherry Holmes was flipping through the pages of Dog Fancy magazine earlier this year, a contest caught her eye. Dog Fancy - in conjunction with Perfect Coat® Shampoo - was seeking a canine with the best coat. Holmes immediately thought of her dog, Joe Montana.
"Sherry was reading the magazine and saw the contest. She said, 'Why not?'" said Harry Holmes, Sherry's husband and Joe Montana's co-owner. "We sent a picture in, and by golly, it worked."
Recently, the Holmes were excited to learn that Joe Montana was one of five runners-up in Dog Fancy's Perfect Coat contest.
"He received a prize package that was actually two big boxes full of treats and grooming supplies such as shampoos, conditioners, special wipes, all kinds of neat stuff. There is more stuff than we can ever use, so we gave a lot of it to Kate (Veillette)."
Joe Montana is a Sheba Inu, which means "small dog" in Japanese, Holmes said. Joe is nine-years-old, and this is the first contest in which his owners have entered him.
"This is the first time he's been entered in a contest," Holmes said. "We sent in a photo and they liked it."
Being known as one of five runners-up and receiving more prizes than he can use in his lifetime hasn't changed Joe Montana's attitude.
"He doesn't seem to realize it. His breed is known for being very aloof with strangers especially," Holmes said. "He is a mellow dog, except when you are grooming him, you have to be very careful."
Kate Veillette, owner of Canyon Pets and Joe's groomer for six years, agrees.
"He thinks the brush is a weapon and would like to kill the brush and anyone holding it," said Veillette. "Throughout the years, we've gotten along. He loves to be bathed. It is an honor to work on a prize-winning pet. Joe is a fine example of his breed. His attitude is probably what helped him win.
Joe Montana is a picky eater, according to Holmes.
"He does not eat table food. He doesn't like chunks and gravy. He likes his food ground and eats mostly canned dog food," Holmes said. "He also likes dry cat food, especially Deli Cat. His behavior is very cat-like. Perhaps there was some cross-breeding between cats and dogs centuries ago."
Joe is just as picky when it comes to his daily treats.
"His treats vary. One day he will eat it and the next day he turns his nose up at it," Holmes said.
Holmes said he would enter Joe Montana in a future contest if there were an opportunity. In the meantime, Harry and Sherry focus on keeping the family pet groomed and maintaining his coat.
"He's not a show dog. We keep him groomed at home and take him to Kate's," Holmes said. "We do use a special comb because he sheds a lot."
More like this story