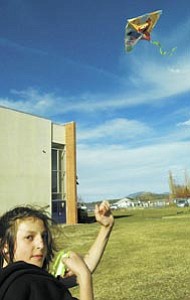 Originally Published: April 2, 2008 10:14 a.m.
Kites were flying March 27 as students from Williams Elementary-Middle School (WEMS) took to the fields outside to take advantage of the recent breezy days in Williams. Forest Service employees Neil Weintraub and Deirdre McLaughlin, both of whom are involved in the Big Brothers, Big Sisters Flagstaff organization, accompanied the students. Patty Everts is the group's facilitator.
The group meets each Thursday from 2:30 to 4:30 p.m. at WEMS. According to Everts, activities range anywhere from educational work to just plain fun.
"Activities will vary from educational enrichment to outside play. One of their favorites is indoor dodge ball. They love it. We play it with foam balls. It gets very cutthroat. We do puzzles and reading. I try and stay away a little from the dogma of school. The focus is the attention on the students, on the youth, because that's our purpose," Everts said.
According to Everts, there are a number of students on the waiting list who have not been matched with a "Big," as there are not enough volunteers to go around. Everts herself, as facilitator, takes care of four students that have not yet been matched with a big brother or a big sister.
"I took them on as a mother hen, I did not want them to lose that experience," Everts said. "We have just picked up another Big. We will actually be able to match up one of my single students with a new Big. That will give me five matched pairs. That will still give me three single kids that I'll be mother hen for and there's still eight on the waiting list."
Some students, such as Justice and Jesse Hudson of WEMS, have been with their Bigs for some time.
"What's unique about Justice and Jesse being in this program is that this is year two for them with their same Bigs, which is really notable in the respect that I've got three Bigs, they're all Forest Service employees" Everts said. Weintraub, McLaughlin and Tom Muntz of the Forest Service are on their second year with their respective students.
"Deirdre has (also) had Brianna Chester for two years now," Everts said, adding that volunteer involvement varies in respect to the time one can be involved.
"Typically it's a 10 week program. Ten weeks each semester," Everts said. "We actually run it a little longer here, because my volunteers want to. Each semester the Flagstaff office arranges several out of school functions for these matches to attend."
Out of school functions, she explained, include free tickets on the Polar Express and a holiday dinner in Flagstaff among other events. High school students are also eligible to become Big Brothers and Big Sisters to younger students, though Everts said that this semester, one or two of the young students are "Bigless" as their high school Bigs could not continue to participate in the program due to sports and other school-related programs.
"Spring is the busy season for the high school," Everts said. "The investment here for people is time. It's not money. It's interest and time."
For information on volunteering, contact Everts at (928) 635-4428, ext. 143 or call C.J. Penning at the Big Brothers, Big Sisters Flagstaff office at (928) 774-0649.