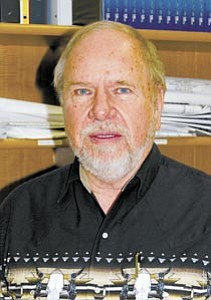 Originally Published: October 3, 2007 9:57 a.m.
Members of the Williams City Council denied a request from local business owners that would create a loading zone between the hours of 2 a.m. and 11 p.m. in the downtown Williams area. The zone would have been located near the existing loading zone for Pine Country Restaurant along Railroad Avenue. Council moved to refuse the request during their regularly scheduled meeting Sept. 27. Representatives with Red Garter Bed and Bakery, Pine Country Restaurant and Pancho McGillicuddy's Mexican Cantina made the request, according to city officials.
"What they're requesting is a 60 foot loading zone, the result of which would eliminate one parking space. The loading zone would move from its present location on Railroad Avenue closer to the intersection of Second Street across from the Visitors' Center. There is already a small one there. They want to make it larger and then a little bit farther to the east," said Williams City Planner Harry Holmes. "It would be available for anyone in the immediate area to use, for example Camp Civitan, they could certainly use it, as could anybody else who has a business nearby, including the Visitors' Center."
"I personally am not in favor of eliminating parking spaces for loading zones," said Williams City Councilman Don Dent. "I drove one of those trucks for 15 years and it's the truck driver's job to find a place to park to unload that and there's parking lots right across the street where they can unload that and wheel it across the street. Even when you've got places for them to park, most of them are going to park right in the lane of traffic. You drive around town at seven o'clock in the morning, three mornings a week, right next to the diner down here, there will be a truck parked in the left-hand lane, unloading right in the lane. So even if we create one, if there's a car parked in it, that truck driver's going to pull up right into that lane anyway. I don't like the idea of giving up parking spaces. We've got too few of them now."
False alarms
Council members also took a look at false alarms within the city of Williams and possible ways to put a stop to the sheer number of alarms the Williams Police Department has to respond to on a weekly basis. Council was asked to adopt a measure that would cite individuals who fail to fix their alarm systems by way of an escalating payment scale. The measure was introduced in an effort to alleviate the officer's duty to respond. Council tabled a decision on the matter, however, until they could learn more about the issue.
"Just as with the discussion on enforcement on parking, this could get (business owners') attention just the same as a ticket could," Holmes explained the measure to council members. Chief Herman Nixon was not present to explain the extent of the false alarms, due to his obligations at the senior bonfire also held the evening of Sept. 27.
"I wouldn't vote and or support this ordinance until I knew how many false alarms they answer," said Williams City Councilman John Moore. "I don't think it's the city's job to develop an education program."
"After the fourth, fifth or sixth time of responding to a false alarm, you're sense of urgency starts diminishing, you know they're consistent violators and you don't respond as rapidly. Then all of a sudden maybe there is a situation where they needed to respond," Councilman Kevin Young said.
Holmes was also made interim city clerk during the Sept. 27 meeting. Holmes, a seven year resident of the Williams area, will fulfill his normal duties as city planner, but also the duties of city clerk until a replacement for the position can be hired by city officials. Holmes has worked for the city of Williams for over a year. His duties as interim city clerk will include writing agendas and recording the minutes of various city meetings.
"He's done a very good job. He's a detail oriented person and I see the back of his head more than the front of his head, because he's always looking at that computer screen. I think he's doing a good job," said Williams City Manager Dennis Wells.
More like this story