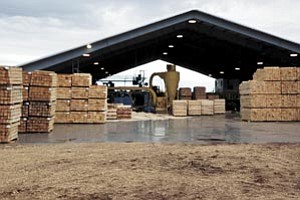 Originally Published: November 28, 2007 8:55 a.m.
. (SWFP) is facing an obstacle to the expansion of their business located just west of Ash Fork. SWFP officials want to open a pellet plant to turn wood chips into wood burning pellets.
The proposed pellet plant would utilize tons of wood waste remaining from forest restoration projects, yet it would be an additional industrial business that some rural residents are not excited about having in their backyard.
While there are two sides to the issue, and strong feelings on both sides, some are hopeful that an agreement between parties can be made that appeases everyone. Others remain skeptical. Yavapai County has given SWFP 30 days to meet with a group of neighbors who have complaints about the proposed plant and the existing sawmill, to try and work out their concerns before making a final decision. 
Scott Van Der Toorn, executive vice president of SWFP, voiced his concerns.
"We are meeting with the local residents to try and find a common ground, but the bottom line is we are not in violation of any federal, state or county laws or ordinances," he said. "One example of frustration for SWFP is that one of their members (with a complaint) built a home after the mill was already up and running."
When asked if it might be feasible for SWFP to haul the wood waste to Phoenix, Van Der Toorn said this would not logistically work, due to cost.
Some area residents have expressed concerns, of "noise, dust, and lights" in regards to the existing sawmill. Others, like rancher Hugh Campbell of Ash Fork, said he "didn't think the lights looked that bright" when he drove past, and said he sees it as a "good, viable business."
Residents in the Walker community, located 10 miles north of Lynx Lake in the Prescott National Forest, expressed a positive view of the SWFP sawmill and proposed pellet plant.
"Some kind of forest control has to be done," Joellyn Nusbaum of Walker said. "Where are these plants like SWFP going to go? They can't be in the middle of Prescott. If the small cut timber is not taken out of the forest we are going to have huge fires like in San Diego. It's great that there is a local business helping to clean up the forests."
Van Der Toorn described what he sees as the viability of SWFP's businesses.
"Not being able to install a pellet mill would seriously endanger the future of the entire facility, not to mention it would eliminate any possibility of using the slash left in the forest from harvesting activity for pellets and would require the slash to continue being burned in the forest - that is if there is still harvesting activity being performed in the Kaibab and Prescott national forests," he said.
Communications between SWFP and the rural neighbors of the proposed plant may determine a larger picture of what happens to areas in the forest where wood is either harvested or burned, and whether an industrial business is constructed near Route 66.
More like this story