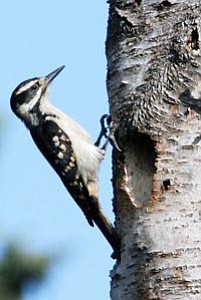 Originally Published: August 15, 2007 9:55 a.m.
Understanding forest health is quite an abstract idea, but thanks to the efforts of science, Forest Service personnel at the Kaibab National Forest are able to assess the ecological health of the forest by monitoring select wildlife species - called Management Indicator Species (MIS) - around the forest.
Beginning in 2005, the Kaibab's wildlife biology team started surveying for MIS in accordance with the National Forest Management Act that requires the monitoring of MIS in order to understand how management actions are affecting forest health and wildlife populations.
Species designated as MIS are those that thrive in healthy ecosystems and are very responsive to environmental changes. Such characteristics make these species good representatives of an entire forest community. By tracking changes in MIS populations, biologists and forest managers can judge the health of the ecosystem and project changes in associated wildlife populations and plant communities.
On the Kaibab National Forest, biologists are largely focused on bird tracking and some small mammal monitoring. As it turns out, birds are often good MIS because they are closely tied to habitat type. Changes in the habitat typically lead to noticeable changes in bird populations, informing managers that something is awry.
Bill Noble, wildlife biologist for the Kaibab National Forest, said, "The surveys are looking great."
Kaibab biologists are using the latest, cutting-edge technique for conducting MIS surveys, called "distance sampling." This year, the forest contracted the renowned Rocky Mountain Bird Observatory (RMBO) to do the surveys and analyses. As an innovative research organization, the Colorado-based RMBO is working at the forefront of bird conservation, dedicated to protecting western bird populations and the habitats on which they rely.
"They are the best," said Kristin Bratland, wildlife biologist for the Kaibab National Forest, referring to the RMBO. "It's great that they're working with us on this project. Not only are they very thorough at sampling birds, but they also use distance sampling. Distance sampling is the most sophisticated and accurate statistical model out there for analyzing animal population density and change over time."
Since the end of May, the RMBO researchers have risen to the challenge at 3:30 a.m. every day looking and listening for resident birds around the forest. The group is surveying randomly selected transects across the Kaibab's diverse landscape, ensuring that research data is collected in all of the key forest types that management decisions may impact. This will provide a record of bird populations in each of these areas, enabling forest biologists to keep track of population trends and cross-compare survey results between forest types.
Taking it a step further, the team is also working to compile a comprehensive list of not just songbirds classified as MIS, but of all songbirds encountered on the Kaibab including species under special consideration by many government agencies and non-profit organizations. This is the first time such a large-scale survey project has been undertaken on the forest.
Noble said this will open up a world of possibilities for future studies and management decisions. "By establishing a good database of nearly all the bird species on the forest, we can work with researchers on more studies, effectively record trends for all our bird species and respond to changes in a knowledgeable way, making informed management decisions," he said.
The results of this study won't be seen immediately though, said Bratland. "It will still be 3 to 5 years before we get any really good estimates of population trends in the area," she explained. "It takes time to make these assessments. If we only look at a few years, one abnormally high year could significantly skew the trend. Species populations need to be looked at over the long term to truly understand if they are stable."
Confident in the quality and importance of this research, Kaibab biologists are looking forward to unlocking the secrets of the forest's precious bird populations. In time, this survey data will help establish a better understanding of these communities and with it - the means to a better forest