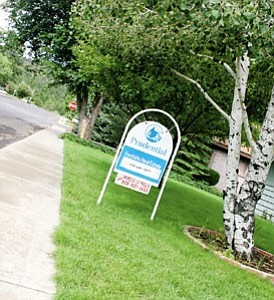 Originally Published: August 4, 2005 5 a.m.
Even before the news of the 1,000-acre theme park project coming into the area, Williams property was selling fast. Now it's at break-neck speed, and housing prices continue to soar with no immediate end in sight.
Meanwhile, property owners are asking the obvious question ‹ will the Williams housing bubble pop anytime soon?
Area realtors admit answering the question is akin to looking into a crystal ball. Most, however, agree that there may be a leveling out or slight drop in prices if the proposed Grand Canyon-Northland Amusements and Entertainment LLC theme park doesn't get built, but that enough eyes are now upon the area that the effect would be minimal.
"I think there's enough good things happening in Williams that the bubble won't burst," said John Rushton of Bankers Real Estate. "It's primarily based on supply and demand."
Williams Realty owner Bill Miller agrees.
"There's always going to be a demand for property here. Williams was undiscovered for so long and now it's (theme park) opened people's eyes and opened the door."
If supply and demand is the impetus for increased property prices in Williams, then home values may stay high. Approximately 85 percent of land within Williams city limits is public forest. Of the remaining 15 percent, over half is already occupied and much that remains after that is already spoken for by developers.
City council members have already stated they will only allow a certain amount of new growth before putting a cap population and density. Even if all the available land in Williams is eventually spoken for and built upon, realtors say housing prices still might not drop at that point. Rather, they would likely increase even more when it came to reselling due to the lack of available land.
Most area realtors also agree the one thing that would cause a housing market crash would be a serious spike in the prime interest rate.
The up side to increased property values, especially for those that own real estate, is obvious. One downside, however, is that most middle-income residents are stuck with the current property they own, simply because it would cost too much to buy a new home in the area. Other dangers that exist in a booming housing market include what happens to those who own property if the market crashes. Industry professionals, such as National Bank of Arizona Williams Branch Manager Linda Russell, warn buyers not to become financially over-extended and to make sure they pay on principal as often as possible.
"In a market with inflated prices, one of the drawbacks is becoming upside down in your payments ‹ that's one of the primary dangers," Russell offers. "I think you need to be careful who you're borrowing from and really look out for yourself."
Others, such as Rushton, advise getting a fixed-rate mortgage to avoid the dangers of future interest rate hikes.
The situation in Williams is not necessarily unique to the rest of the nation, according to Rich Gorney, also of Bankers Real Estate. He says many other American communities are facing inflated home prices for a combination of reasons.
"It's happening everywhere," Gorney reports. "There's more money available because interest rates are down, and I think you're seeing the baby boomers now looking for a better lifestyle."
Those factors, he explains, means many more families and individuals have been wanting to buy than usual, which increases the demand and in turn pushes prices higher.
Currently, however, the nation's prime interest rate is slowly creeping back up, which has market analysts predicting a "cooling off" period in the housing market. Gorney says it may take while, though, for Williams to reflect what happens elsewhere.
"Williams has never followed national trends as a whole. We've always reacted a little slower."
Finally, some are also asking, whether or not the city is in danger of over-developing.
To answer that, Williams Mayor Ken Edes said he, other city council members and city staff will be discussing the issue at August work sessions to determine where the city goes from here.
Aside from actual space, another factor of growth in Williams is water availability. Don Bills, of the United States Geological Survey station in Flagstaff, has been collecting data on the Red Wall aquifer ‹ the aquifer Williams has tapped into for its wells. He says that while true numbers on the exact storage capacity of the Red Wall aquifer may be a long time coming, the preliminary outlook is favorable.
"The likelihood that it's (Red Wall aquifer) going to dry up anytime soon is small," Bills said, citing measurements taken of the aquifer's two major northern and southern discharge points.
He also said preliminary data suggests that the aquifer's storage capacity is extensive.
Currently, the city of Williams is using a combination of water from both Dogtown Lake and the Dogtown III well. As of July 18, Dogtown Lake was at 79 percent capacity, Kaibab was at 80 percent, Cataract had 57 percent, Santa Fe was up to 83 percent, and City Dam was at 53 percent for a 75 percent total with all reservoirs.
More like this story