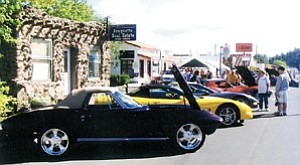 Originally Published: August 4, 2005 5 a.m.
The Cool Vette Cruise-In is coming to Williams again, adding to the city's plethora of summer events.
The brainchild of the late Russ Harris, his wife Maureen, Wendy and Casey Buitenhuis from the Prescott Vette Sette Corvette Club, last year's event brought 107 delicious Vettes and many more spectators to Williams.
Organizers ­­ including Pueblo Indian Gallery's Linda Dixon ­­ are hopeful even more may participate this year. Over 70 have already pre-registered from states including Arizona, California, New Mexico, and Colorado.
The event begins with many participants lining up their cars voluntarily on Friday all along Route 66 from about First Street to Twisters 50s Soda Fountain. A street dance with live music will be held at Twister's in the evening.
On Saturday, the formal car show will take place with judging all day. From 10 a.m.-noon, radio station KVNA will be holding a live broadcast from the Twisters patio. Over $2,500 in prizes available while raffles and an auction will also be taking place at the same location throughout the day. Pepsi brand beverages will be available as well at a cart that will be set up at various locations.
At 5:30 p.m., vehicles will start lining up at Ninth Street for the 6 p.m. Cruise the Loop parade going eastward. Participants will then follow each other to the Rack and Bull restaurant in Parks for an official awards ceremony.
Sunday will be a more relaxed day for the participants with a pancake breakfast at Twisters followed by shopping and sightseeing opportunities.
Dixon said she is excited to be a part of this year's event and is reminding the public that proceeds go for a good cause.
"This whole thing is built around the Make a Wish Foundation," Dixon said, adding that regular out-of-pocket donations to the foundation are also needed and welcome. "Williams, we want your money for the Make a Wish Foundation."
For more information, contact Casey Buitenhuis at (928)899-8933 or the Williams-Grand Canyon Chamber of Commerce at (928)635-0273.
More like this story